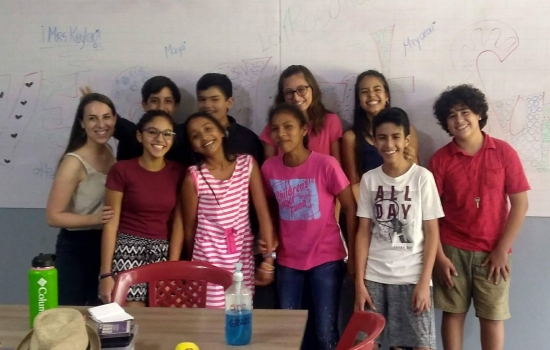 10.21.2019
Tyler and Kaylan Foster met while serving with Jungle Kids for Christ on a short-term mission team to Ecuador in 2009. They began dating and were married in 2016. In 2017, Tyler and Kaylan moved to Ecuador to serve as cross-cultural workers with TMS Global.
Tyler and Kaylan serve at Jungle Kids for Christ, a ministry designed to empower children in the jungle of Ecuador to break the cycle of poverty and abuse. The organization does this through education, sharing the gospel with students, teaching life skills, and building students' confidence.
Kaylan teaches math to sixth- through eighth-grade students at Antioch Christian School, and Tyler coordinates short-term mission teams and serves as the director of marketing for the organization. Their desire is to see the transformational love of Jesus impact the children with whom they work.
Elena* is an eighth-grade student who has attended Antioch for many years. She is timid and struggles with a learning disability. Elena's mother works in a local store, and her father cleans the town park. Most of the students at Antioch have a sponsor in the US who pays for all or part of the child's tuition and school fees. Elena's parents also volunteer time at the school to help pay for their daughter's education.
Elena failed sixth-grade math, and she barely passed the subject in summer school. Kaylan taught Elena again in seventh grade, and again she failed the class. During summer school, Kaylan worked with Elena one-on-one.
"Around 30 percent of our students have some sort of learning disability," said Kaylan. "Some of the students come from illiterate families, which puts them at a disadvantage."
While Elena was in summer school, her sponsor, Molly, participated on a short-term mission team to Jungle Kids for Christ. Churches send teams to help the ministry with various projects and to connect with the students. Molly and Elena were able to meet and get to know one another.
Elena and Molly spent time together during the week, and Kaylan continued to work with Elena in summer school.
"I could see a change in Elena during that week," said Kaylan. "She worked harder and didn't give up as easily as she had in the past. She seemed more confident."
When the final test score for summer school came in, Elena had made a 98! Kaylan said, "I think she just needed to know that we aren't going to give up on her."
*Pseudonym used for privacy.
Next steps:
Jungle Kids for Christ is in need of a special education teacher to serve the students with disabilities. If you are interested in serving in Ecuador, complete a short form online. A mobilization coach will be in touch with you.