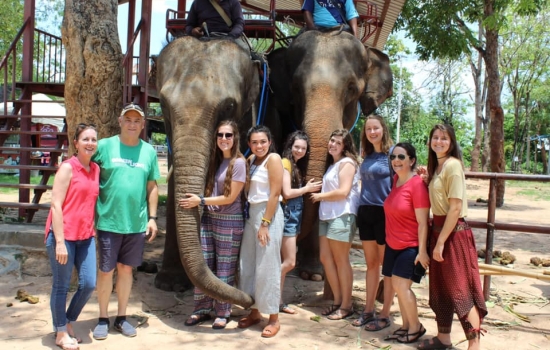 11.14.2019
More than 80 percent of people who currently serve in long-term cross-cultural ministry first considered this career while on a short-term mission trip. For this reason, TMS Global offers multiple GreenLight programs each year in order to give college-aged students the opportunity to discern how the Lord is leading them in ministry.
Different from a typical short-term mission trip, the GreenLight program is designed to help participants learn about culture, cross-cultural ministry, and further discern their call. A small team is led by a mentor and guided through a six-week experience overseas.
In 2019, TMS Global offered GreenLight experiences in Thailand, Paraguay, and Ghana. Todd and Pam Attaway served in Thailand with TMS Global and now serve on the staff mobilization team. They led a group of five students to Thailand, and the trip was co-led by a student who participated in a previous GreenLight team.
In Bangkok, the group spent time at the Muang Thai Church, which is a partner of TMS Global. The team then traveled to Roi Et where TMS Global workers teach English and music at a welfare school, disciple Thai youth, and hold a youth group in their home. The GreenLight team also spent time in Ranong where TMS Global's Thai ministry partners have an English learning center. The team also traveled to Bangkok and served with another TMS Global worker who teaches English and participates in a variety of outreach ministries to Thai students. They group learned about the sex industry and took prayer walks through the red-light district.
"The most beautiful part of this trip was watching the hearts of the Greenlight students being touched by the Holy Spirt as they traveled outside of their comfort zones and relied on the Lord for support," said Pam. "The students struggled with discerning where the Lord was leading them, and many of them were stressed about the decisions they had to make. By the end of the trip, they realized that being formed in Jesus is what truly matters. The rest will fall into place."
While in Thailand, Todd and Pam learned that one of their former students in Roi Et was very ill. She had to leave the government-run welfare school where she resided and return to her home village. Ubon* had open sores on her neck, was having trouble eating, and could hardly walk. She was admitted to a local hospital and given a grim prognosis.
"We began daily prayer for Ubon, asking the Lord to intervene and heal her," said Todd. "As we prayed for her during the time we were in Thailand, her situation began to change. Her appetite gradually returned, the sores on her neck began to heal, and her strength returned. We experienced God's grace for Ubon and His healing power."
Upon returning from Thailand, the GreenLight team members have continued to discern their next steps. Todd and Pam, along with another cross-cultural worker who serves in the US, are leading the group through a video-based Bible study about ways to reach out to their neighbors.
"God showed our group over and over that He is faithful if we believe and trust that He is with us," said Pam. "The faith of our GreenLight team grew from seeing God at work and witnessing how faithful He is to us in our times of need and everyday life."
Six GreenLight programs have been planned for 2020. Medical students can explore cross-cultural ministry and medical care in Ghana, West Africa. Seminary students are invited to explore ministry in South Asia. GreenLight trips are also planned for Costa Rica, Thailand, Spain, and Paraguay. Explore details and submit an application by clicking the button below.