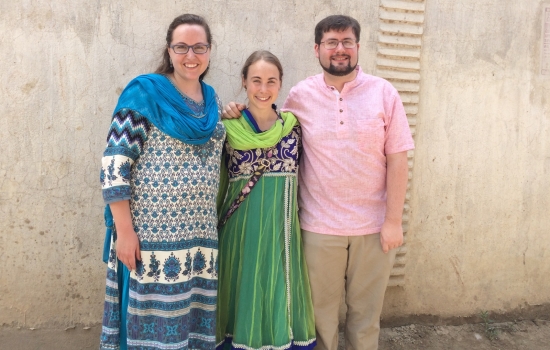 10.12.2020
I almost didn't go on the GreenLight trip.
I had already participated in a fair number of short-term mission trips. I had already visited the country where the GreenLight team would be going. I worried that I wouldn't learn enough during this experience to make it worth my time and money. I laugh at this now. There is always more to learn! But I didn't just want to travel for the sake of travel. I wanted something deeper. The GreenLight experience with TMS Global turned out to be just what I was looking for.
GreenLight isn't a typical short-term mission trip; it's more of a short-term mentorship experience. I was able to catch a glimpse of what it would actually look like to participate in ministry in another part of the world. I learned from four cross-cultural workers and their children as they interacted with their community, their friends, their employees, and their family. The workers were available and patient with me as I asked all sorts of questions: How does health insurance work? How do you deal with compassion fatigue? How do you navigate potential power imbalances?
On weekday mornings, my two teammates and I took public transportation down the busy street to the business that the cross-cultural workers own. I spent most mornings sitting at a table with two or three other women as they cut fabric and worked on other tasks, including helping me practice my embroidery. They were patient with me as I made many mistakes! We laughed and joked in a mix of their language and mine. It was a good opportunity to practice the words and phrases I had been learning through language lessons several afternoons each week.
My teammates and I experienced exceptional hospitality as we were invited into the artisans' homes for meals. They even included us in special celebrations! I am so grateful for the time I got to spend with them—and grateful that they included me in their lives, even for a short time.
As I learned more about how God was transforming the lives of people in this community, I grew deeper in my relationship with Him. It was incredible to experience the Bible from a fresh vantage point, as I watched God use His Word to impact the lives of women and their families. In a place where there are so many gods, I was reminded that no god compares with the one, true God. He is so real and so GOOD!
For me, the GreenLight experience also proved to be a great way to be introduced to TMS Global. There's absolutely no pressure to join the organization full-time. But if you are looking for a place to serve in missions, GreenLight is a great way to become acquainted with TMS Global and see if it might be a good fit for you. For me, it turned out to be the right place. I'm grateful that I had the opportunity to "try it out" first and meet so many TMS Global people before saying yes to joining full-time.
No other trip allowed me to see well what it would actually look like to leave my passport country and build a healthy life in a new place, doing kingdom work. I learned so much from the good rhythms that the workers had established and from seeing how God was transforming a community. My experience was truly invaluable.
Jenifer Jones was part of a 2017 GreenLight team of seminarians who served in South Asia. This summer you can join a GreenLight: Focus team of seminary students traveling to Spain.* Here, you will serve with cross-cultural workers in La Mesa Turquesa Community Center, living daily life among Spanish neighbors, immigrants, and refugees who are building new lives in the city of Antequera. Discover what being a Christ follower truly means in a different cultural context. Learn more here.
If you are not a seminary student and would like to experience a GreenLight trip, a team will be traveling to Thailand in the summer of 2021. Find details here.
*Pending open borders. Virtual/domestic alternatives will be available. More details coming soon.