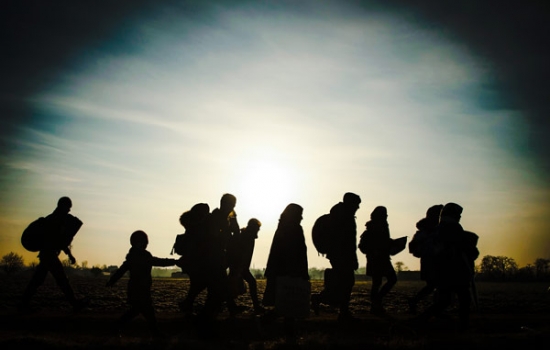 03.09.2022
The United Nations is reporting that more than two million people have fled Ukraine after Russian troops invaded the country last month. Most have gone to Poland, with others fleeing to Hungary, Moldova, Slovakia, Romania, and Russia. For some Christians in Europe, caring for refugees is not a new endeavor. At a recent event in Athens, Greece, hundreds gathered to learn how to better minister to people who are refugees.
Nearly 450 cross-cultural witnesses (CCWs), pastors, refugee workers, and current refugees took part in the Refugee Highway Partnership Roundtable. The RHP is a network of Christ-followers who share a common passion to see the Church minister the whole gospel amongst those who have been forcibly displaced–including refugees and asylum seekers.
As a Christian network, The Refugee Highway Partnership Europe seeks to connect and mobilize leaders, churches, and organizations to effectively engage with refugees. TMS Global cross-cultural witness Billy Drum serves on the RHP leadership team. He coordinates a group of counselors and care providers who come alongside people who work in the trauma-filled arena that is refugee work.
Drum led a workshop on self-care and resiliency for refugee workers at this year's roundtable. He says this training is important, because if people don't take care of themselves, they can't take care of others. He says it can be hard for people who engage in refugee ministry to practice good self-care, since there are many needs and urgency in the work.
"People just get in there and they work and work and work, and you can't meet everyone's needs," Drum says. "But there are lots of people who try to meet everyone's needs without taking care of themselves and finding the help that they themselves need."
During the training, people are equipped to form a plan to care for themselves physically, emotionally, spiritually, and socially. When looking for someone to emulate, Drum takes his self-care cues from Jesus.
"If you look through the Bible, what did Jesus do," Drum says. "He would be in the middle of caring for people, and He would be like, we're done. I've got to go somewhere else. He had to go away and be with the Father. He had to rest and rejuvenate."
Drum notes that working in refugee ministry includes hearing devastating stories. But at the RHP Roundtable, he says he got to see people who had once been helped become helpers themselves. In fact, Drum says 40 percent of participants at this year's event were refugee leaders--people who had themselves been refugees and were now leaders in refugee ministry. Two Iranian women who had fled Iran, and were now counselors in the UK and Netherlands, led a training on how to help people with trauma from a refugee perspective.
"And it was great to be taught by refugees how to help other refugees. Because then you're not speculating on whether this is a North American viewpoint or a European viewpoint. This is an Iranian viewpoint. And they had already been there and done that," Drum says.
On the last night, Drum experienced communion served by men from Iran, Afghanistan, and Iraq. Drum says normally, these three men would never be on the same stage together, because of their differences. During the week they had spent hours in meetings with each other to find reconciliation and healing.
"This common thing that they had gone through has brought them together in this place. And now they're leading other Iranian or Afghan or Iraqi Christians in other parts of the world," Drum says. "That was the exciting part to me, to get to see what God is doing through them."
Drum says it's exciting to see people from different backgrounds, organizations, and denominations all come together because of a common love of Jesus and a desire to help people who are refugees.
Other TMS Global CCWs attended the RHP Roundtable as well. TMS Global CCWs are involved in ministry among refugees in Europe, the Middle East, North America, and South America.
Given the situation now in Europe, the importance of this focus on refugee care, like what this conference demonstrated, seems even more apparent as an estimated four million Ukrainians may need protection in neighboring countries in months to come. Drum and his team are currently working to resource and coordinate efforts for workers who are on the frontlines of the situation in Ukraine.
TMS Global CCWs in Spain are partnering with local NGOs and humanitarian workers who have resources and ability to respond to what's happening in Ukraine. They are working on details for housing mothers and children who are seeking refuge. CCWs are looking to rent space to house and care for people. They are also routing some funds to contacts who are moving people out of Ukraine and into the care of other European countries and workers who have agreed to help refugees. Click here to help. You'll see the option to give under the headline and photo for Nueva Vida Mosaico.