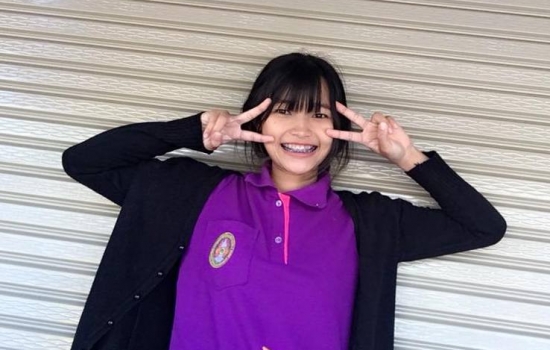 08.27.2018
Nam Chaa was raised in a government-run welfare school in a remote region of Thailand. Her parents lived far away, struggling to keep jobs and make enough money to survive. Nam Chaa lived at the school full-time from the time she started elementary school until she graduated from high school.
Nam Chaa began taking English classes from TMS Global cross-cultural workers Chris and Dora Barbee. The Barbees have lived and ministered in Roi Et, Thailand since 2010. Chris and Dora teach English at several schools, host a youth group in their home, teach music lessons, and disciple the next generation of Thai leaders through the Word. More than 30 Thai youth attend fellowship in the Barbees' home each week. Nam Chaa began attending the youth group when she was a sophomore and started to learn about Jesus and His love for her.
"Nam Chaa learned that she could pray to Jesus about her problems and He would answer her," said Chris. "She began inviting her friends to pray to Him, and Jesus began to work in their lives."
After graduating from high school, Nam Chaa moved to attend Mahasarakham University to study accounting. "It's difficult for our students to continue to grow in their faith when they leave to attend university," said Chris. "There are very few campus ministries or other followers of Jesus at the universities, and it's hard for them to find community."
Nam Chaa met another Jesus follower at school, and they began dating. "They are a huge encouragement to one another," said Chris. Together, the couple drives 45 minutes on a motorcycle to attend Sunday worship in Roi Et at the English Center.
"My friends ask me why I attend worship in Roi Et," said Nam Chaa. "I tell them that when I worship Jesus, I have a peace and a joy that nothing else can create!"
Nam Chaa has participated in discipleship groups with Chris and Dora and helped to lead Sunday worship. She is investing in the lives of young students who live without their families at the welfare school, just as she did.
Next steps:
Pray for Nam Chaa as she continues to grow in her relationship with Jesus.
Pray for Chris and Dora as they minister to students in Roi Et.
Pray for the students in Roi Et, that their lives and communities would be transformed by Jesus' presence.
To explore serving cross culturally, click the button below and complete a short form. A mobilization coach will be in touch with you soon.