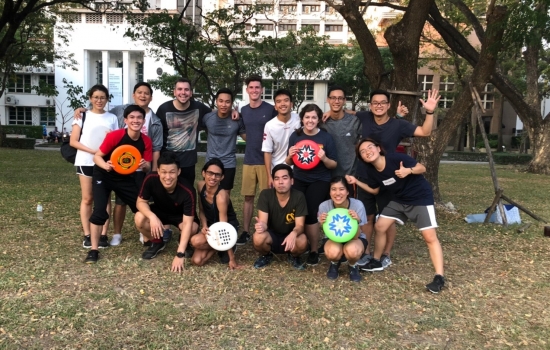 04.27.2020
Were you ever chosen last in P.E. class, left out of a game, or ignored when you wanted to be included? At some point in life, most of us has felt like an outsider. Some people are so often ignored that they begin to believe they are unworthy.
Niran* is a young man in Thailand who has always been left out. Niran's family struggles to make ends meet, and he has never done well in school.
Thomas* is a TMS Global cross-cultural worker who serves in Thailand. Thomas teaches English and builds relationships with Thai youth. Through teaching he forms relationships with his students and shares his faith in Jesus.
Thomas met Niran while teaching English. When they first met, Niran had such low self-esteem that he would hardly look Thomas in the eyes. Niran wasn't doing well in school, was misbehaving in class, and had a bad reputation in the neighborhood.
After months of meeting together, Niran's attitude began to change. Thomas always showed up to meet with Niran, believed that Niran was capable of doing well, and consistently encouraged him. Slowly, Niran began to believe in himself. His grades, his behavior, and his confidence all improved.
Thomas and some friends meet weekly to play ultimate frisbee in the local park. Thomas invited Niran to play, and Niran was thrilled to be included in a group. However, not everyone welcomed Niran.
In Thai culture, younger people have less value than older people. Niran was the youngest person on the frisbee team, and the older guys began to bully him. They gossiped about Niran, ignored him, and were aggressive towards him during games. Thomas stayed close to Niran to protect him. After many months of attempting to get the group to accept Niran, Thomas was exasperated.
"Even the other people in the group who follow Jesus wanted Niran kicked out," Thomas said. He explained to the other team members, "The purpose of this group is to build a community that is a safe place for everyone to come together, have fun, and to be accepted. If Niran gets kicked out of this group, the group is no longer serving its purpose."
Some of the other members of the frisbee group realized that Thomas was right. They began to include Niran in games and protect him from the older guys who were aggressive.
A year later, the frisbee group has completely changed. Some of the older members quit the group or stopped bullying the younger players. "The whole culture of the group continues to change and become more accepting and loving to everyone who comes," said Thomas. "Niran is so happy to be accepted now, and he loves playing each week. Best of all, this group is now full of people like him—people who never had anyone to talk to and people who were picked last in sports and in life. Our frisbee team has become a safe place for people of different backgrounds to come together and get a taste of authentic community.
"Thank you for giving Niran and others like him a chance to know they are worth fighting for. Niran is worth it."
*Names changed for security