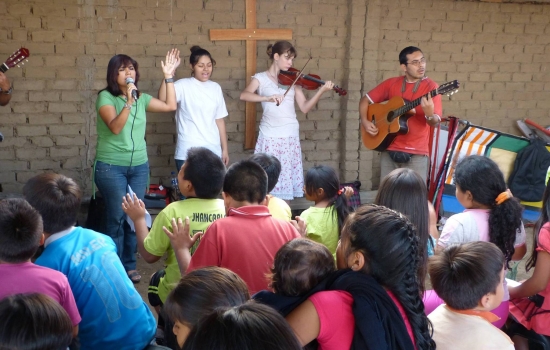 11.18.2015
After months of fighting, Liliana and Jonathan finally agreed on something—they wanted a divorce.
A few weeks later, Jonathan's sister shared the good news of Jesus Christ with them. Liliana and Jonathan surrendered their lives and their marriage to the Lordship of Jesus Christ, Who transformed them into a living testimony of God's power and grace.
Martin and Tracy Reeves, Mission Society missionaries in Peru, began to disciple Liliana and Jonathan in their new faith. The small group of four believers started the first church plant and discipleship ministry from their church.
Over time, Martin asked Jonathan and Liliana to assist in leading worship at church. They agreed, as long as they could remain in the background, playing guitar and singing. When the Reeveses had to make a trip to the US, Liliana agreed to lead worship. God transformed this timid young woman into an effective worship leader and prayer warrior.
Several months ago, Liliana began to suffer from severe back pain. The Reeveses took her to a local chiropractor who, after looking at her x-rays, determined she would need many months of intensive chiropractic care. Over the next several weeks and months, there were many days Liliana was not able to get out of bed because of the pain.
The day Martin left to return to the United States to spend the last few days of his mother's life at her bedside, Liliana asked to speak with the Reeveses. For the next 45 minutes, Liliana poured out her heart to Martin. She told him that, during a time of prayer, God had revealed to her why He had not healed her back. For years, she had been unwilling to forgive her mother. As she poured out her heart, giving and receiving forgiveness, God began to heal her wounds. Afterwards, Liliana gave permission for Martin and his children to lay hands on her, asking God to heal her body.
A few days later, while Martin was planning his mother's funeral, he received a message from Liliana that God had completely healed her, emotionally and physically. After she had been prayed over, Liliana had returned to the chiropractor with a new set of x-rays. The doctor was shocked to see how quickly and perfectly her back had been healed!