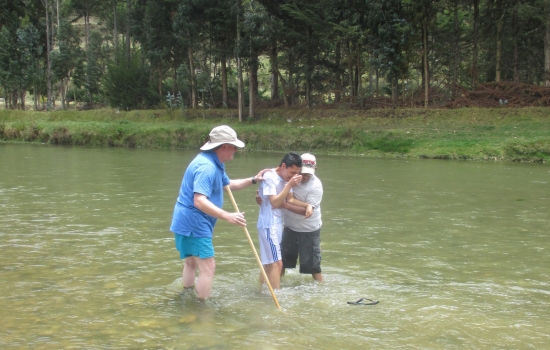 12.19.2018
Even in the lives of cross-cultural workers who have devoted their careers to full-time ministry, sometimes it is the simple acts of everyday life that have a profound impact on others.
Arthur and Mary Alice Ivey have served in Peru for 17 years. When their three children lived and served with them, the Iveys would frequent a restaurant in Huancayo.
Willy served as a waiter in the restaurant. He would often wait on the Iveys and noted how happy they were and how much they laughed together. After watching them for several months, Willy pulled Arthur aside and wanted to know why his family was different from most families Willy knew.
Arthur shared the gospel with Willy, and he put his trust in Jesus. Willy was already attending Alcoholics Anonymous, but after coming to faith, he was completely freed of his addiction to alcohol.
As Willy grew in faith, he became more and more involved in the Iveys' ministries. Willy attended a discipleship group and learned more about Jesus and what it means to follow Him. He began volunteering with short-term medical teams that traveled from the US to serve under-reached areas. He traveled with Arthur to the downtown park to share the Good News with youth who shine shoes for a living.
Willy's family noticed a tremendous change in him, and they became curious about his new faith. His wife, Margot, and his daughters, Nicole and Jhomara, began attending the Iveys' weekly discipleship group. The Iveys shared the gospel with Margot, and she put her faith in Jesus as well. Willy learned how to share his faith in Christ through participating in the Iveys' ministries, and led his two daughters to faith. He also led his parents, in-laws, and several other family members to put their trust in Jesus.
Willy led his son, Matias, to faith, but Matias engaged in a time of rebellion and did not participate in any religious activities with his family for several years. He started going to pagan festivals, drinking, and experimenting with drugs. Matias eventually dropped out of school. The Iveys and Willy spent a lot of time in prayer for Matias, and he turned back to the Lord.
Matias returned to school and is doing very well. He was recently baptized by Arthur and is growing rapidly in his faith. He helps with the short-term medical teams along with the rest of his family and attends the discipleship group with them.
"We are so happy that Matias has been baptized," said Mary Alice. "God has done marvelous things in the lives of this family. More than a dozen people have come to know Jesus as Lord through Willy sharing his faith with them."
Willy reflected, "My home is a peaceful place as my family pursues a deeper relationship with Jesus together."
Next steps:
Pray for Willy, Margot, Nicole, Jhomara, and Matias as they grow in faith.
Pray for Arthur and Mary Alice as they share the gospel in Peru.
If you are interested in serving cross-culturally, click the button below and explore the various terms of service that we offer.