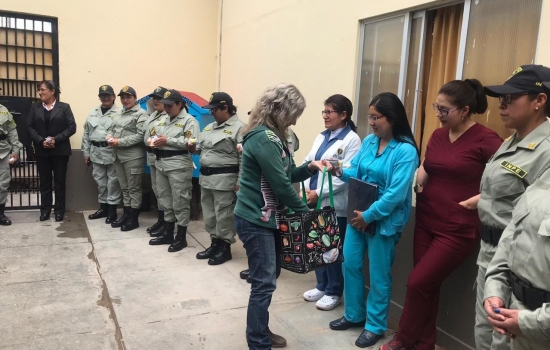 04.16.2020
Miriam made some poor choices and found herself in prison, serving a 12-year sentence for drug trafficking in Peru.
Jennifer Goshorn, a TMS Global cross-cultural worker, leads a weekly Bible study in the women's prison. Forty-seven of the 100 inmates attend the study. Jennifer walks with the women as they struggle with life behind bars. "All of the women desperately miss and worry about their children," said Jennifer. "I focus on studies that will encourage them and give them a sense of worth and assurance that they are loved and forgiven through Jesus Christ."
Just before Christmas, the women had their last Bible study of the year. When the study was over, Miriam approached Jennifer and stuffed something into her hand. Miriam said it was a gift. Jennifer thanked Miriam and put the small object into her pocket.
Miriam told Jennifer that she had been watching for her two years. Miriam watched Jennifer interact with the women in the study and paid attention to how they responded to her. Miriam noticed that Jennifer showed up every week, rain or shine. Miriam was aware that Jennifer accepted every invitation to attend events from the prison director and that Jennifer brought gifts to every woman in the prison on Christmas and Mother's Day, not only to the Bible study participants.
Slowly, Miriam learned to trust Jennifer. Miriam began reading her Bible on her own and praying. She had been reading about Paul just before the Bible study group met. Jennifer said, "Miriam noticed that as Paul traveled to share the gospel people gave him food, a place to stay, and money for his journey."
Miriam told Jennifer that the people who supported Paul were helping him share the gospel. She told Jennifer, "I want to be one of those people."
When Jennifer left the prison, she pulled a wad of bills from her pocket. Miriam had given Jennifer 30 soles, which is about $10 USD.
"To give you some perspective," said Jennifer, "30 soles will provide a healthy meal to the 40 children who attend our kids' ministry event each Saturday."
Many of the inmates have completed their sentences but cannot leave prison because they do not have the money to pay a lawyer to complete their release documents. Jennifer said, "The fact that Miriam decided to put that money towards ministry rather than herself is tremendous."
The prison warden noted that violence in the prison has decreased dramatically over the last four years that Jennifer and her colleagues have led the Bible study. The warden now allows the Goshorns and their team to put on concerts and other events at the prison because she sees the positive influence on the women.
"This ministry has truly been a blessing, and I am so thankful to you who make it possible with your financial support and prayers," said Jennifer. "The Lord is changing lives, mine included."
Next steps:
Pray for Jennifer and her family as they minister to inmates, children, and vulnerable teens in their community.
Pray for the women in Jennifer's Bible study. Pray that they would come to know Jesus as Lord.
Pray for Miriam as she grows in faith.