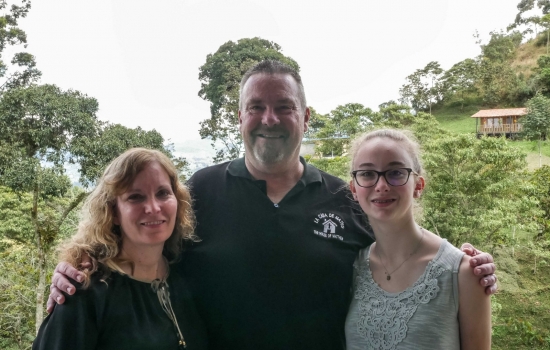 12.14.2018
Tim and Jennifer Goshorn serve with TMS Global in Huancayo, Peru. They lead a weekly children's ministry, a Bible study in a women's prison, and are involved in outreach to least-reached areas of the country.
Andamarca is a town deep in the jungles of Peru. Tim and a Peruvian pastor, Salvador, have traveled to Andamarca multiple times to share the gospel with people who have little access to the gospel. They also led a short-term medical mission team from the US to Andamarca. The team treated 400 people in three days. Each person treated received prayer, a Bible, and heard the gospel message.
"More than half of the people treated expressed an interest in learning more about Jesus," said Tim. "Thirty of them are meeting together to be discipled and learn more about their new faith. Several of the people in the group are former Shining Path terrorists."
Tim and Salvador have traveled weekly to Andamarca to disciple the new believers. On their way back to Huancayo, they had to take a detour due to a road closure. The alternate route was much longer and went through an area that had known terrorist activity.
"Salvador and I were stopped at a military checkpoint," said Tim. "They told us that three soldiers and three civilians had been killed in the area a few days prior. I told them we would be okay, so they let us through."
A few hours into their trip, Tim's truck rounded a corner to find a group of armed men blocking the road. A truck pulled behind Tim, making it impossible to escape.
"An armed man came up to us and asked what we were doing," said Tim. "He seemed very angry when he saw that I was white. I told him that we were heading home from Andamarca. He stared at me a long time, and then he asked if I were the gringo who had been helping people in that area. I told him that I was, and he let us pass."
Andamarca is a very dark area. Satanic beliefs are common, and physical and sexual abuse is rampant. Local pastors in Huancayo said we shouldn't go there, but the light of Christ needs to be proclaimed in dark places. God said we should go, not just go when it is safe. And He is always in charge."
Next steps:
Pray for the safety and effectiveness of cross-cultural workers around the world.
Pray for the new believers in Andamarca as they meet together and study the Word of God.
Pray for the terrorists to surrender their lives to Jesus.