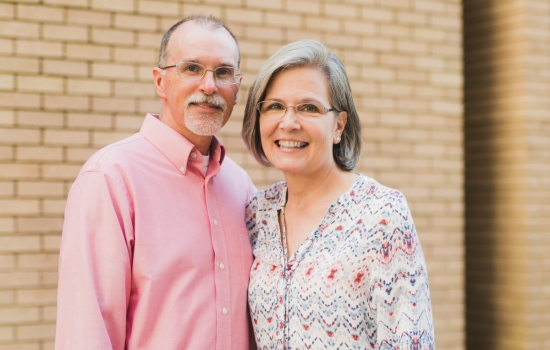 12.15.2020
Len and Betsy Phillips recently retired from 26 years of cross-cultural ministry. They served jointly with World Gospel Mission and TMS Global in Argentina, Honduras, Bolivia, and Albania. Here they share their experiences and their advice to the next generation of cross-cultural workers.
Len is originally from New Jersey and was serving as a middle school teacher when he felt called to ministry. Betsy is from Georgia and decided to pursue a career in ministry while in college. After she graduated, Betsy began a master's degree at Asbury Theological Seminary where Len began studying the following year. The couple met and were married while at Asbury.
During their time at seminary, Len and Betsy both sensed God leading them to serve in cross-cultural ministry. "God used friendships with international students, teachings from mission professors, and eye-opening truths of Scripture to confirm that calling," said Betsy. "But, for me, it all began with a personal encounter with Jesus and a life-changing moment of giving over all to His will for my life."
After graduation, the couple applied to serve jointly with World Gospel Mission and TMS Global. They moved to Argentina in 1994 to serve with local churches. In 1996, the Phillipses moved to Honduras, where they would spend the next decade equipping people to serve local churches through theological education. Len, Betsy, and their three children moved to Santa Cruz, Bolivia in 2006 to continue to serve in Christian education. The family spent several years in the US, from 2013-2017, during which time Len and Betsy taught in Christian schools. In 2017, Len and Betsy relocated to Tirana, Albania to serve with GDQ International Christian School.
In each location, Len and Betsy held a variety of positions designed to mentor men and women who were starting ministry, disciple new believers, and serve in the local church. They taught students of all ages, equipped new pastors, led marriage retreats and mentored young couples, hosted youth groups, taught English, served as chaplains, coached basketball, and many other roles. No matter where they were serving, this couple's heart was to come alongside people, helping them to walk more closely with the Lord.
The Phillipses returned to the US in 2020 and settled in Georgia. Both Len and Betsy are teaching Spanish at a Christian school. Betsy said, "We have the great honor of teaching a language we love, inspiring an appreciation for diverse cultures, and challenging students to pursue God's will for their lives, now and in the future."
When asked what they learned from their decades of cross-cultural service, Len said, "I continue to be amazed that as we follow the Lord and give ourselves to Him, even with our faults and inadequacies, He can and will use us for His purposes and glory in kingdom service. He takes our little and multiplies it for His glory."
Betsy added, "Our lives have often been interrupted by changing roles, injury, illness, deaths, international moves, earthquakes, and a global pandemic (to list a few). Yet I've learned that God's purposes always prevail (Proverbs 19:21), and that He can use each unexpected disruption in my plans to make me more like Jesus. I can confidently commit my future to a good and loving God who sees not only my days, but my eternity. Most of all, I have learned and am still learning to depend fully on Jesus each day, realizing anew how much I need His wisdom and His strength to enter fully into the place and the moment He has called me to without fear of the future. (Psalm 119:66)"
Len's advice to people considering cross-cultural ministry is, "Go with humility and a learner's heart. Know that even in the difficult days, the Lord will be growing, refining, and developing you into the person He desires."
Betsy added, "Accept and love people for who they are—uniquely created and loved by God. Get to know them as individuals, not as part of a group or as stereotyped or generalized people of another culture. Don't measure success in missions by how busy you are. Mere busyness is antithetical to the prayerful and personal work of sharing the gospel and discipling a life transformed by His grace."
"As we look back on our lives," said Len, "we wouldn't trade our experiences serving cross-culturally for anything."