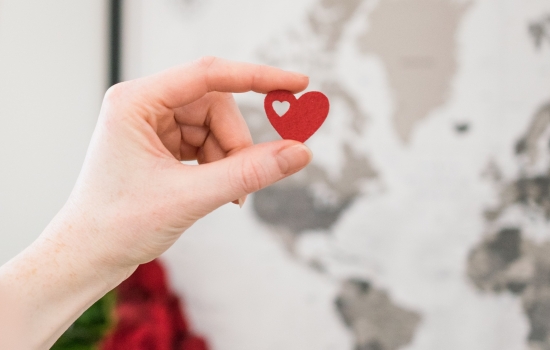 02.07.2022
Valentine's Day, on February 14th each year, is a widely celebrated holiday in the United States. But what about the rest of the world? We asked a few of our cross-cultural witnesses to share with us what Valentine's Day looks like where they live.
Kaylan and Tyler Foster serve in Ecuador. Kaylan says from what she's seen, "Dia de San Valentine" is the same as it is in the States. She notes, "I'm not sure if it has always been this way or if it's only been since globalization that it has begun to look more and more like the holiday does in the US."
Kaylan has taught at a private Christian school in Ecuador, and notes, "At our school the holiday is usually celebrated by staff by studying scriptures about love and sharing with anyone we love how much we appreciate and love them. We have never celebrated cupid or the dating relationships that are highlighted in the US."
Ghana

,

Vietnam

, and Japan
Steve and Suzanne Buchele have served in Ghana and Vietnam. They say Valentine's Day in those countries is celebrated as a lovers or romantic holiday, similar to the US.
"In Vietnam it also included children giving parents flowers or gifts or making a meal for them - expressing love in many relationships, not just romantic ones," Suzanne says.
Steve notes that in Vietnam, International Women's Day, which takes place in March, is a widely recognized time to show appreciation for women. "When Suzanne took a taxi or Grap (Uber), she was given a flower, and, in stores, a box of chocolates," he says.
The Bucheles also know a bit about Valentine's Day in Japan, as their son-in-law is Japanese. In that country, "Christmas is the 'lovers' holiday' and Valentines is when women give gifts, mostly chocolates, to men. A month later men give white-themed gifts to women [including things like white chocolate, white scarves, and even silver jewelry]," Suzanne says.
In France, Mike and Valerie Smith say that Valentine's Day is similar, though not the same, as in the US.
"It is a little less commercial, but flower and chocolate sales do go up," Mike says. "I have discovered that it is more for adults and for lovers only. You don't send your friends a Valentines card, and school children don't give one to their classmates."
Dylan and Molly Fila serve in Sri Lanka, and note that Valentine's Day is not a widely celebrated holiday in that country. But, Dylan says, the few people who celebrate it do so in a similar way to those in America.
"Due to the influence of the British during its colonial days, there are pockets, especially in the cities, that embrace Western culture and have assimilated many holidays and traditions from the West, such as Valentine's Day," Dylan says.
He notes that Sri Lanka is a country that is in love with its flowers.
"So flowers are a big part of the holiday," Dylan says. "In urban areas, you will see a lot of flowers for sale in the stores and markets. In more Western-style grocery stores, you will see Valentine's Day displays in the store similar to what you might see at Walmart in America."
Matthew and Jessica Richardson* say China has its own kind of Valentine's Day, but it's not on February 14.
"They hold it on the seventh day of the seventh lunar month, traditionally the day that once every year a famous young lad can get to visit with his lover who was banished to the moon," Matthew says.

He notes that this had always been just a traditional cultural story. "But about 20 years ago," Matthew says, "young Chinese started taking interest in 'lover's day,' February 14th. Valentine's day was purely a Western concept, but people liked the excuse to have a 'holiday' with their loved one, and of course many gift shops and flowers stores loved the idea."
Matthew says he and Jessica personally like to enjoy a date night on February 14th, but usually their Chinese peers don't celebrate the holiday.

Chris Barbee says that in Thailand, where he and his wife Dora serve, Valentine's Day is an adopted holiday. Its traditions are similar to those in the US, with at least one exception.
"Most everyone gets sheets of metallic Valentine stickers, and they just cover all of their friends and teachers with stickers all day long," Chris says.

He adds, "We used to try to grow roses in front of our home on the campus of the welfare boarding school where we lived, but I stopped because every Valentine's Day every single one would be 'borrowed.'"
*Pseudonyms are used for security reasons.