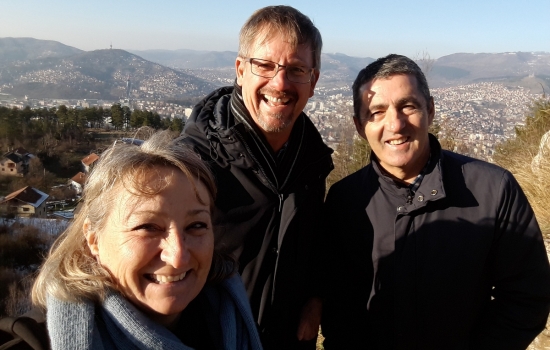 04.23.2019
Bilal* was raised in a Muslim home in North Africa. Jesus visited Bilal in a dream one night, and he began to follow Him. Bilal's imam ordered people to try and kill the new Jesus follower, and his family beat him. Bilal's father took him to a psychologist, who put Bilal on heavy medications. He was eventually forced to flee his village.
Bilal escaped and took refuge in a church in Spain. He applied for religious asylum and was sent to a refugee relocation center in Spain. The pastor of the church Bilal attended connected him with TMS Global workers, Billy and Laurie Drum, who live and serve in Spain.
Trained as counselors and coaches, Billy and Laurie are involved in a variety of ministries in their community. The Drums have been active in refugee ministry for years.
"Bilal comes over to our house for tea, games, and meals," said Laurie. "We attend church together and are beginning to study the Bible together."
Billy and Laurie recently traveled to Bosnia to attend the Refugee Highway Partnership roundtable, a conference for Christian workers who want to share best practices for humanitarian aid. The Drums were asked to serve as counselors for the long-term aid workers who are suffering from chronic trauma and exhaustion.
"The refugee crisis may have fallen out of the daily news cycle, but it is still a serious crisis for Europe and the Middle East," said Laurie. "People continue to come, crossing borders in sub-zero temperatures with little-to-no clothing or personal possessions. Many arrive sick and with injuries from war or from torture received during their journey to try to escape.
"The effects of the stress, trauma, and difficult living conditions (for both the refugees and the humanitarian workers) is taking a huge psychological toll on people. The aid workers witness front-line injuries, both physical and mental, and are trying to meet the most basic needs of people who have lost everything. The incidence of PTSD and serious mental breakdown among humanitarian workers who deal with refugees is a growing concern."
Billy and Laurie spent the week meeting with aid workers, offering care, and praying with them. The small church they attend donated warm clothes and blankets for the refugees, which the Drums brought with them to distribute. The congregation has begun to reach out to refugees from the relocation center in their town.
The Drums' pastor, Miguel, began asking people in the relocation center to play soccer. Soon there were so many people that they formed four teams and played games regularly. Some of the refugees have begun to participate in church activities.
Miguel attended the Refugee Highway Partnership roundtable with the Drums. "Miguel was already serving refugees in our town, but his vision is so much bigger now for what we can do and how to involve others," said Laurie. "He's already trying to figure out how to involve other pastors and community leaders in this ministry."
Although the refugee crisis can seem overwhelming, Pastor Miguel's congregation focuses on helping a few families at a time. Through forming personal relationships with refugees in their community, the congregation can share the love of Christ as they offer hospitality and help with practical details.
A refugee from Venezuela was placed in Spain, and has attended Pastor Miguel's church for the past six months. Now her family is being relocated to a new town. "She said the church has been an anchor for her and her family as they have adjusted to being refugees," said Laurie. "Thankfully, because we know other pastors, cross-cultural workers, and refugee workers, we can connect her with individuals who will help her get settled. The network of people working to love our refugee and immigrant neighbors is spread throughout Europe."
Bilal is settling in Spain and looking for work. "He misses his culture, his foods, and the landscape of his home," said Laurie. "Life won't ever be the same, but we are working to build a new reality for him and a new 'home.' He will continue to be a part of our family, and he will have people around him who love him."
Photo: Billy and Laurie Drum with Pastor Miguel at the Refugee Highway Partnership in Sarajevo.
*Pseudonym used for security.
Next steps:
Pray for the 68.5 million refugees and displaced persons worldwide.
Pray for the Drums, Pastor Miguel, and others who are reaching out to refugees in Spain.
If you want to serve refugees, you could join a TMS Global team. Click the button below to learn more about opportunities to serve.