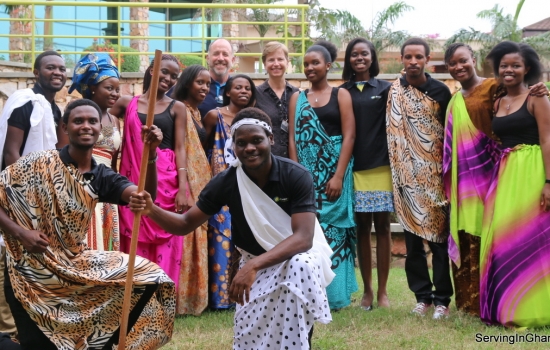 12.19.2016
Steve Buchele serves in Accra, Ghana with The Mission Society. He teaches leadership at Ashesi University and works in campus ministry.
Here, Steve shares about one of his students, and the way God worked through a difficult situation.
One morning, I was on the front porch of our house when one of my students stopped by. This young Rwandan man was frantic with worry. The week before, his older brother had been involved in an accident and badly injured his leg. Habimana* had just received word that his brother's leg may need to be amputated.
Habimana's father had been killed by genocide, and, due to his older brother's accident, the family had named Habimana the functioning elder. It was now up to him to decide whether or not his brother would have the $2,000 operation.
Two thousand dollars is more than the net worth of Habimana's entire family. It seemed an impossible number, and he feared letting his family down. I was tempted to make some calls to the US and find enough donors to cover the cost. However, I stopped and asked myself what was the best solution.
In the missionary training we received before we moved to Ghana, we learned about situations such as these. It's somewhat easy to take the position of the "white knight" and swoop in to save the day. But what we need to look for are opportunities in which the power of God can be made visible.
I encouraged Habimana that God could make a way, knowing it would take a miracle. Habimana and I talked for several hours and formed a plan. We divided the $2,000 hospital bill into more manageable amounts—amounts that friends and family could actually afford to donate.
Armed with a plan, Habimana left to gather the phone numbers of nearly everyone in Rwanda that he knew. On the weekends, he used my office phone to make the calls to family and friends, asking them to donate a portion of the medical bill. Meanwhile, I proceeded to ask faculty at Ashesi University to donate to his cause.
By the end of the week, we had collected or had pledges for half of the hospital bill. It was enough for the doctors to proceed with the surgery.
After the summer break, Habimana came to see me. He excitedly told me how his brother's leg was healing and how the community had come together to pay for the surgery. "I never would have believed this was possible!" he said. Habimana went on to say it was God Who did it all, and his faith had been strengthened in the process.
I thought about how close I came to making the wrong choice had I called a few donors and arranged a wire transfer to pay the hospital bill. Instead, because we prayed and trusted God to accomplish the impossible, Habimana grew in faith; he earned honor from his family; his brother received the care he needed, and God received the glory.
*Pseudonym used for security purposes.