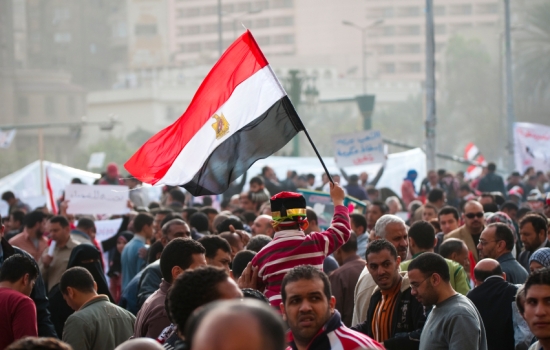 12.20.2011
Egyptians of all religions came together for the common purpose of overthrowing long-time dictator President Hosni Mubarak. The 18-day revolution was successful in February 2011 when Mubarak resigned as president. Since that time, the military has controlled Egypt, which has now started the process of elections for a new government. As thousands gather in Tahrir Square again, this time for a complicated election process, violence and uncertainty for the future abound.
Read this article from a Mission Society MK from Egypt about her faith and trust in God during this time.
What do you do when you've fasted and prayed with a multitude of people that God would protect and cover your land, but then comes the reality which loudly speaks of fear and discouragement? A voice tells you that your prayers were not heard, and that what you prayed against is what happened.
What do you do when your faith feels shattered, and God begins to choose a whisper as His voice this time?
"Blessed be Egypt, my people," (Isaiah 19) said the LORD. The Egyptians have held onto that with all their hearts and souls. At the start of Egypt's revolution on January 25th, many were excited for change, while a minority of Christians predicted quickly "the Muslim Brotherhood is behind this to take charge." I do not need to talk politics (that's not my field anyway), but dare I say that there is a spiritual battle?
Ultimately, the Church with thousands upon thousands prayed with agony that His will be done in Egypt. We asked for His will above protection and prosperity. But now I stand as I hear the news of the votes: the Muslim Brotherhood is ahead, and I question, "God, what is happening?" In the midst of my fear and crying soul, He asks me, "My child, do you trust Me?"
Trust you?
He heard the prayers, and answered them. This is a season of calling out to His children, "Do you trust me?" When trouble and persecution and the enemy's voice is the loudest, do we trust Him? I have decided to free myself from the thoughts of discouragement and fear and rise up to pay attention to His whispered calling for trust. For through us, He will bring light in the land! And soon, His rain will come to satisfy.
But we must trust.
He gave me a dream last night of a group of people tearing down the banners supporting wrong leaders. These banners were all over the country, and for some reason His people were going around and undoing the injustice and oppression wanting to come. He said once more, "Do you trust Me?"
God, I trust You. This land is Yours. These people are Yours. Your will be done.