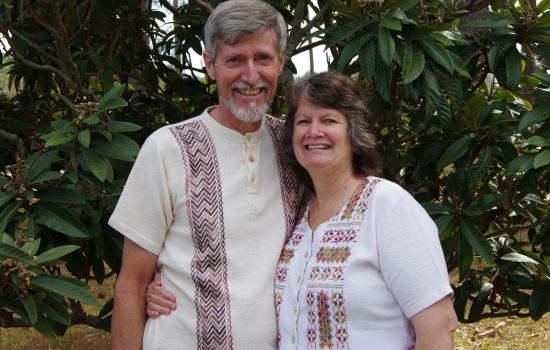 04.24.2017
He heard the loud blow of the ship horn, signaling it was time to depart. It was 1960 and John was 10 years old. He was boarding a ship bound for England with his parents. After pre-field training to serve as missionaries, his family would travel to Zimbabwe to live.
John lived in Zimbabwe for nearly five years before his family was forced to leave because of war. He returned to Zimbabwe after college and served as headmaster of a school where he also taught agriculture and construction. Colleen, who would become his wife, was studying international agriculture with the intention of serving in an area experiencing famine.
After John and Colleen married, they applied to serve with TMS Global and were placed in Ghana, West Africa. They lived in a fishing village and John started a vocational school. Colleen homeschooled their three children and taught Bible story lessons to neighborhood children in the afternoons. She also shared about Jesus with the local women who cooked meals for their families each day under a large tree in the village.
After almost six years, the Eisenbergs relocated to Paraguay. In Paraguay, with their children in school, Colleen began to study the Bible with new believers and help with short-term teams. Later, she taught English to K4 and K5 classes at a Methodist school. John coordinated short-term mission teams, taught in the Methodist Biblical Institute, served as an interim pastor, and participated in many construction projects.
Together, John and Colleen mentored couples and taught marriage enrichment seminars. "Four out of five families in Paraguay are led by a single mother," said John. "Marriage isn't the norm in Paraguayan culture. We have tried to model what a healthy Christian marriage looks like, and teach that God desires for couples to be married.
"I believe every culture has an understanding of attributes of God that has arisen from their circumstances. This understanding gives us a better glimpse of the character of God. It also gives us a more balanced picture of ourselves."
"One of the greatest blessings of cross-cultural ministry has been becoming fully reliant on Jesus," said Colleen. "In the US, we are used to taking care of ourselves and have the resources to do so. When living overseas, the cultural way of doing something is different or the resources are not available. We have had to depend on Jesus in ways we would not have in the US."
"I've been involved in cross-cultural ministry for 55 years," John explains. "What I have learned is that this is God's work. We are merely His apprentices. We need to enter our host culture with an open spirit. Learn from the people there and the reasons they do the things they do. Be needy among the people. Remember to keep Jesus as our focus. It's easy to get discouraged by the challenges or to focus on the people and projects with whom we are working. But cross-cultural ministry is about getting lost in the worship of Jesus as we serve Him in serving other people, to love them as Jesus loved us."
Your donation to TMS Global helps us train, mobilize, and serve cross-cultural witnesses, like John and Colleen. Thank you for your support.