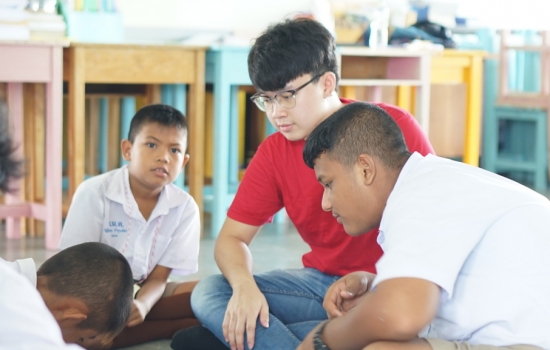 10.23.2019
"Don't waste your time."
"They are bad kids."
"There is nothing you can do."
"They're not right in the head."
"He is stupid; he will never learn."
"Why bother?"
We have all experienced hurtful comments at some point during our lives. Some of us allowed the words of others to become part of our identity, shaping us into the person we became. This was the case with Niran* and Kla.*
Niran is a Thai youth who lives in Bangkok. His family operates a food cart in a very busy section of town. Niran struggles in school, which has negatively impacted his confidence and feelings of self-worth. All the comments listed above have been said to Niran by neighbors and family members as he worked on his homework beside his family's food cart each afternoon.
Niran was asked to interview a foreigner for a school assignment. Niran's mother saw Thomas,* a TMS Global worker who serves in Thailand, on the street one day. She asked if her son could interview the American man. Thomas agreed and began to talk to Niran.
"It was quickly apparent that the assignment was far beyond this young man's ability," said Thomas. "He was so embarrassed and ashamed."
Thomas teaches English and builds relationships with Thai youth. Through teaching he can form relationships with his students and share his faith in Jesus. Thomas intentionally spends time hanging out, drinking tea, and having spiritual conversations with his Thai friends.
Thomas offered to tutor Niran and his younger cousin, Kla,* in English for free. They began to meet each week beside the family's food cart. As they studied, people from the neighborhood would come by and interrupt the lessons with hurtful comments.
Thomas held his tongue and continued to show up each week and teach Niran and Kla. At first, the lessons were difficult. Niran and Kla fought constantly, and the continual interruptions from neighbors were distracting. The boys hated school and learning English, and they were not happy to have more homework after their school day ended.
"I prayed and showed up every week with patience and a positive attitude, determined to love these kids," said Thomas. "I told them I didn't care how long it took; I would teach them every week for 10 years. I believed in them and wasn't in a rush."
Slowly, Thomas could see a change in Niran and Kla. They fought less and tried harder to learn English. Each week, Niran memorized the vocabulary words Thomas assigned. The boys began to grow in confidence.
The boys' family noticed the difference in Niran's and Kla's behavior. Their parents began to allow the boys to study with Thomas, even if it meant they were not able to work at the food cart that day.
"People in the neighborhood now smile and show kindness to Niran and Kla," said Thomas. "They are still teenagers and struggle with issues, and life has dealt them a very difficult hand. But instead of dipping their heads in shame, they smile. They know they matter."
*Pseudonyms used for privacy.
When you support TMS Global's cross-cultural workers, you are helping to reach vulnerable youth in Thailand with the hope of Jesus. Your gifts enable us to train, mobilize, and serve workers, like Thomas, who share the message and love of Jesus with their neighbors. Thank you!