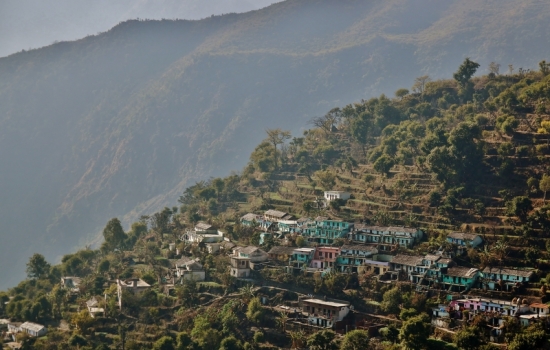 08.25.2016
I live and serve as a missionary in northern India. Life is hard here and the amount of need—both spiritually and physically—is nearly more than I can handle most days. But I have learned that God is at work in India in ways I never imagined. I love seeing His plan unfold for a people He loves.
Missionaries have been venturing to India for longer than America has been a known land, and yet India has far more unreached people than the United States. Most of the Christians in India are along the coast, which is where missionaries landed centuries ago when they arrived by boat. But, there is also a majority Christian population in the Northeast, and most of the land between those two areas is unreached. I wondered how that one remote region had heard of Christ.
I asked my pastor, an Indian from the Northeast region, why this was true. He said, "Well, our great-great grandfathers were headhunters."
This didn't exactly answer my question.
Arnav* went on to explain. "In a headhunting culture, when a boy came of age, he had to kill a warrior from another tribe to prove his manhood. All of the villages were in remote areas of the jungle. A boy would have to survive his trek through the jungle, kill a warrior, and bring his head and other specific body parts back to his village. Wild animals were a danger since he was carrying raw meat through the jungle. If he survived the journey, he stood on a rock in the center of the village and was inducted into the tribe as a man.
"One day, a missionary came to our village. It was no use to kill him since he wasn't a warrior, so the people of the village let him live. They harassed him to try and make him leave, but he wouldn't go. One time, the elders locked him in a cage. Instead of leaving, he brought his wife back to live with him in the village.
"Throughout the years that this missionary lived in the village, he only led one person from our tribe to Christ. That man ended up being one of the greatest evangelists in India. Entire villages came to the Lord through the ministry of this one man, a former headhunter.
"And now, generations later, the ancestors of those headhunters are missionaries and pastors throughout India."
Arnav moved to this area so he could minister to the least-reached people of this region, rather than remaining where he was comfortable and the majority of people around him knew Christ.
I was reminded again that we don't have to understand what God is doing to follow Him. We don't have to see the future. God has a plan that He rarely reveals to us, but He is always working to bring people to know Him as Lord.
That lone missionary was ignored, harassed, put into a cage, and he never gave up. What must have felt like a failed ministry to him actually brought millions of Indians to know Christ. God is faithful, and we can trust Him.
*Pseudonyms and stock photo used for security purposes.