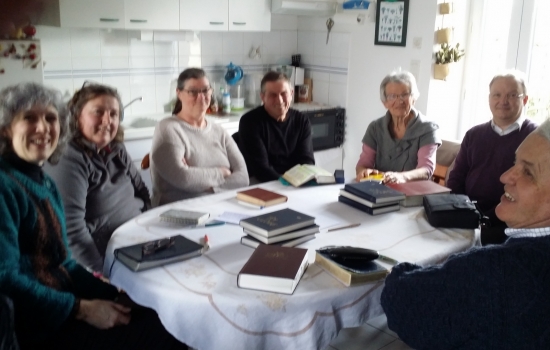 11.15.2018
While Protestantism is declining in much of Europe, the church in France has experienced a 1,000 percent increase since 1950. That year, there were 50,000 practicing evangelicals in France. Today there are more than 500,000.
TMS Global cross-cultural workers Mike and Valerie Smith have lived and ministered in Brittany, France for 16 years. They manage a bed and breakfast and are involved in a local church in Brittany.
Their church has recently experienced wonderful growth and has nearly doubled in size. The church of 30 people often has 50 or 60 people during worship. The pastor, Pastor Emmanuel Hartiel, has served the church for the past 12 years. The town of Guingamp has 23,000 inhabitants and no other evangelical church. The small congregation has a monthly Bible study and an outreach project in the town of Rostrenen, in order to reach people who live far from a Protestant church. Mike and Valerie are involved in the church there and plan to help plant a campus closer to their bed and breakfast.
"We have built relationships with people in our community, participate in area art and music groups, and regularly meet atheists with whom we can share Christ," said Mike. "Through the congregation reaching out to their neighbors, the church has grown."
Elizabeth is a new member of the church Église Protestante Évangélique de Guingamp (EPEG). Raised a Jehovah's Witness, Elizabeth walked away from church and religion more than 25 years ago. Although she never stopped believing in God, past hurts from people in the Jehovah's Witness church caused her to stop attending church.
Several years ago, Elizabeth joined a knitting club and met some other women. Several of the women follow Jesus, and would read their Bibles as they knitted. Elizabeth had been taught that other religions did not study the Bible, so she was intrigued by what she saw.
During the same time, Elizabeth and her husband bought a house with acreage, and she began gardening quite often. Elizabeth felt close to God when in nature, and sensed that she should look for a church.
One day, Elizabeth found a Bible and read Matthew 3:17, "And a voice from heaven said, 'This is my Son, whom I love; with him I am well pleased.'"
"Christ revealed Himself to me in that verse," said Elizabeth. "I understood that I could be saved by God's grace and not through my works." Elizabeth knelt down in the doorway of her home and committed her life to Jesus. "I received warmth from the sun on my face and experienced a great comfort. I no longer carry around so much fear."
Elizabeth was baptized in the church and is active in worship and Bible study. She has brought other former Jehovah's Witnesses to the church and shares her testimony whenever she can. Some of the church's recent growth has to do with Elizabeth sharing her faith with her neighbors.
"Living the gospel together, in order to demonstrate the relevance of the Word of God in the face of a world that is being lost—this is the challenge," said Pastor Hartiel. "And may it please God to add to the church all those whom He calls to Himself."
Next steps:
Pray that the church in France would continue to grow.
Pray for Mike and Valerie as they minister in Brittany.
Pray for Elizabeth as she grows in her faith and shares her testimony with others.