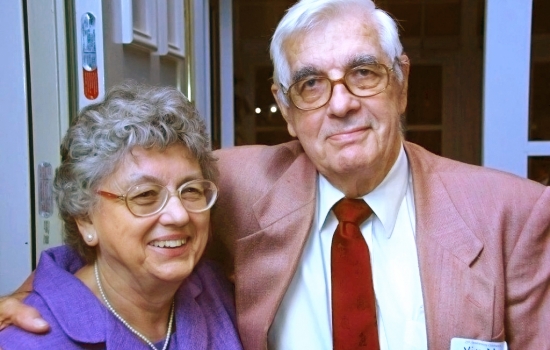 11.05.2015
The Rev. Virgil E. Maybray, The Mission Society's founding vice president, passed away on November 4, 2015. Prior to joining the founding staff of The Mission Society, Maybray had led the Evangelical Missions Council as its first executive director and had served for many years in the pastorate in the Western Pennylvania Annual Conference of The United Methodist Church.
The Mission Society is deeply indebted to the Rev. Maybray for his indefatigable work and witness. It would be impossible to calculate the number of missionaries who serve today and the number of pastors and congregations throughout The United States and in other parts of the world who would point to Virgil Maybray as the reason for their saying yes to God's calling on their lives.
The Rev. Dick McClain, former president of The Mission Society, retired last year after having served with this ministry almost since its launch. He writes about his dear friend and mentor: "Virgil was passionate about the supreme task of the Church, which is to proclaim the Good News of Jesus in all the world. No career missionary ever had a greater passion for world mission than Virgil, a man who himself never served cross-culturally. As a pastor and church leader, he understood and totally committed himself to the global mission of the church.
"I shall always be grateful for his life and witness, both of which live on in the lives of countless spiritual children and grandchildren and greatgrandchildren across the US and around the world. May God raise up 10 others to take his place, for it will take that many to equal the impact of this one man."
The service for Virgil Maybray will be held at Trinity United Methodist Church in Palm Beach Gardens, Florida, on Tuesday, November 10 at 2:00 p.m. in the sanctuary.
Thank you for joining us in prayer for the Maybray family.