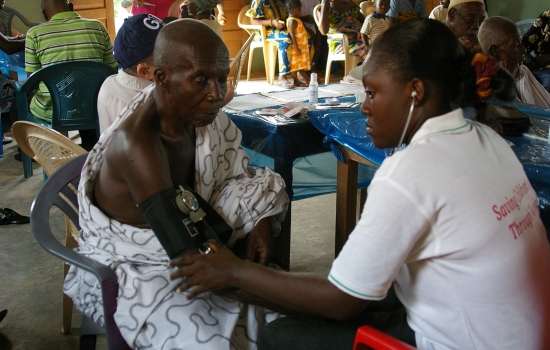 10.14.2014
For the last several months, the world has watched as the outbreak of Ebola Viral Disease (EVD) has spread and worsened into a health crisis with global implications. Cross-cultural workers actively engaged in healthcare have made international news as they have contracted the disease. In recent weeks we have seen how easily the disease can spread to another location, even to the United States. At The Mission Society, we have been concerned for the health and safety of our cross-cultural witnesses and our local partners, as well as for our friends at other organizations. Our friends, family, and supporters have expressed concern as well.
The Mission Society takes the threat of EVD seriously. At this point in time, no Mission Society missionaries serve in areas with active EVD cases. The Mission Society has prepared a contingency plan and established a crisis response team to handle the situation should EVD spread to any of the areas where our workers are located. At the same time, we are actively supporting our local partners in West Africa to educate our communities about EVD. Our workers report that the governments in the areas where we serve are taking EVD seriously and putting the proper precautions in place to prevent EVD from coming to communities we serve, and to contain the disease should cases emerge. We see some cultural practices, such as hugs and handshakes, set aside and new ones, such as the widespread use of hand sanitizers and increased emphasis on proper hand washing, adopted in the interests of hygiene and safety.
Ebola's current infection rate per population is 1:10,000, or 0.01%. Those at highest risk are health workers, family members, or those in close contact with the dead, including mourners, and bush meat hunters. None of this description fits the profile of Mission Society workers in West Africa. Furthermore, Ebola is only spread through direct contact with bodily fluids, which make is much less contagious than the flu, for example. While it is a serious disease because of its high mortality rate, our workers are actually more at risk from other more common diseases like malaria and cholera.
The Mission Society asks that you join us in praying for West Africa:
Pray for the families and communities that are being decimated by this deadly disease.
Pray for the health and safety of health workers on the front lines treating patients with EVD.
Pray that the response from the international community continues to grow and EVD is quickly contained.
Pray for the researchers who investigate the causes and potential cures for this deadly disease.