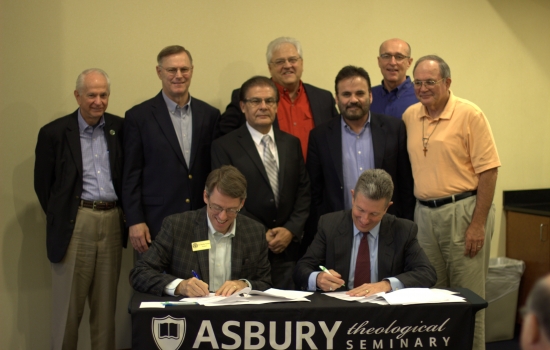 02.17.2016
Asbury Theological Seminary inducted The Mission Society into its Global Partner Program at an event on November 10-11, 2015 in Orlando, Florida.
Asbury's Global Partner Program includes organizations, educational institutions, non-profits, and church networks from around the world. The goal of the program is that these partners serve as resources for one another. Institutions involved might regularly have faculty lecture at partner schools, share library resources, have students engage in cross-cultural ministry experiences, and come together for conferences.
Three other organizations were inducted in November as well. The School of Theology of the Methodist University of Sao Paulo, the Africa Gospel Church, and the Evangelical Methodist Seminary-University of Costa Rica became Global Partners.
The Mission Society opened "The Yellow House" adjacent to Asbury's campus in 2015. The house is being leased to The Mission Society by Asbury, and serves as a hospitality house for anyone interested in exploring cross-cultural missions. A Mission Society staffer lives in the house and coordinates events, meets with students, hosts missionaries on furlough, and works in recruitment for The Mission Society.
As Global Partners, The Mission Society plans to invite Asbury faculty to participate in international training events, as well as to provide expertise on curricula used in Mission Society training and church mobilization programs. Together, The Mission Society and Asbury will explore ways to connect Asbury's church-planting program with Mission Society missionaries involved in church planting around the world. Mission Society missionaries John and Katheryn Heinz codirect CenterForm, a ministry of The Mission Society. CenterForm has collaborated with Asbury on several educational events, and more are planned for the future.
Mission Society President Max Wilkins was present for the signing in Orlando. "We are so blessed to deepen and formalize the partnership which has long existed between Asbury Theological Seminary and The Mission Society" he said. "As The Mission Society seeks to join Jesus in His mission, especially among the least-reached peoples, we are also committed to Asbury's mission of spreading scriptural holiness throughout the world. We will work closely with Asbury to both train and deploy the women and men God is calling to join this mission. This agreement marks an exciting new frontier for both organizations, and we look forward to ongoing fruitfulness in mission together."
Photo credit: Asbury Theological Seminary