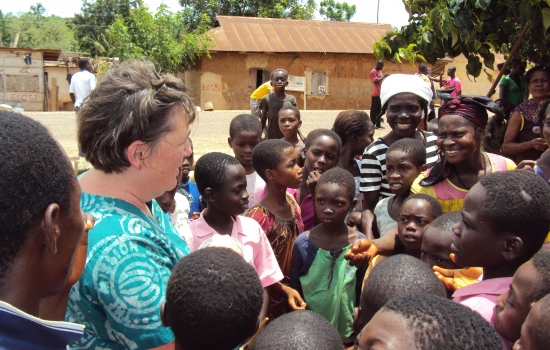 09.18.2011
Charlie and Mary Kay Jackson have ministered in Accra, Ghana since 2006. Both engineers, Charlie is a lecturer in Information Technology at Methodist University. Mary Kay works with Methodist Development Relief Services and Pure Home Water, two charitable organizations that focus on bringing potable water to the rural poor in Ghana.
In the story below, Mary Kay describes her experience in a rural village on Easter weekend.
Easter Saturday was a historic day for the village of Fawomanye, located near the coast of Ghana between Winneba and Cape Coast.
My first interaction with Fawomanye was in the fall of 2007. I went there at the request of friends from Arizona State University to assess their water situation and determine whether or not the village water supply was suitable for treatment using ceramic pot filters. I journeyed out with my test kit to take measurements of turbidity (off the charts), bacteriological contamination (yes!), and other potential contaminants (not really). I was watched with close scrutiny as I took water samples, mixed in reagents, used test strips, etc. I met with the chief and elders under the fig tree to discuss the potential project and ascertain their level of interest.
The village elders were impressed with my scientific props, and they were interested in the promise of help in treating their water supply. The village did have one borehole, but the pump was broken, and they were not really interested in fixing it, as the water was too salty to drink anyway. They did use the water to make cement/mud blocks for building, but they could use the nearby pond, which was currently their source of drinking water, for that too.
At the end of the day, the oldest man in the village engaged me in a long discussion of what the village really needed – electricity. All of this was in Twi, so I probably only got every third or fourth word, but as there is no word for electricity in the local language, I did get the gist of the subject. He was pointing toward the high-voltage transmission lines that could be seen in the distance and was asking why, if power was so close, they couldn't have it. And could I help?
Now, I am a water engineer. I did take one electrical engineering class in college, but only because I had to. All I could think of was to say (in my halting Twi), "Yε bisa Nyame." (We will ask God.)
Now, four years later, in the strange ways often ordained by God, they have electricity. My generous friends at Arizona State University and Desert Cross Lutheran Church have raised the money to purchase power poles, street lamps, and to subsidize the electrical wiring of homes. I have joined local delegations to visit the Ministry of Energy and the Electricity Company of Ghana to advocate for their service. It has been a long and sometimes frustrating journey, but sometime this week, the lights will come on for the first time!
But the more exciting part for me was to be able to testify to the village about God's glory that day. As we once again gathered under the fig tree in the center of the village, I gave thanks to God for the provision of electricity. But I also reminded the village that Jesus is the Light of the world, and that if we follow Him, we will no longer walk in spiritual darkness (John 8:12). Furthermore, if we are following Jesus, we are called in turn to be light to those in darkness around us (Matthew 5:14-16). So I asked the villagers to see their new-found electricity as a reminder that they are to be light to those around them to the glory of God.
May the people of Fawomanye and I never forget that we are called to be Christ's light in a dark world!
When Jesus spoke again to the people, he said, "I am the light of the world. Whoever follows me will never walk in darkness, but will have the light of life." (John 8:12, NIV)
"You are the light of the world. A town built on a hill cannot be hidden. Neither do people light a lamp and put it under a bowl. Instead they put it on its stand, and it gives light to everyone in the house. In the same way, let your light shine before others, that they may see your good deeds and glorify your Father in heaven." (Matthew 5:14-16, NIV)