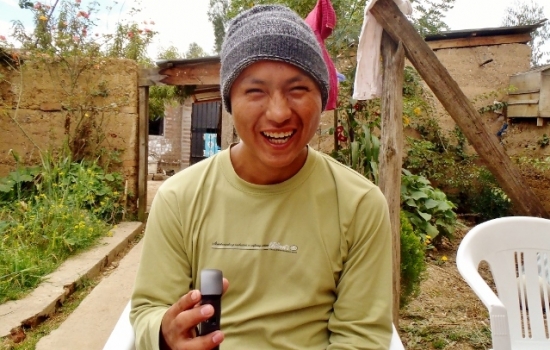 07.28.2016
"We become so tired of feeling helpless," said Tim, Mission Society missionary in Peru. Talking with Tim, it was obvious that the day-in and day-out stress of ministering in a culture wrought with abuse was heavy on his heart.
Tim and Jennifer Goshorn serve in Huancayo, Peru with The Mission Society. They minister in the local women's prison, lead discipleship groups, serve in an orphanage, and coordinate a feeding program and Bible study for children.
"A few weeks ago, a young man named Emilio* attended our feeding program for the first time," said Tim.
Emilio is 18-years old and is illiterate. His mother beat him as a child, and he never attended school. The scars on his head tell of the abuse he suffered at a young age.
Emilio lives in Lima in a home his mother owns because she won't let him live with her. He never knew his father, and has nine other siblings who have different fathers as well. He sells candy on the street and gives the profits to his mom. When he has no money to give, she sends his brothers to beat him.
By the grace of God, Emilio found a church near his home and met Jesus. He prays regularly for his mother to know Jesus as well. He has memorized some scripture verses that he learned at church, but cannot read the Bible on his own. In addition to being illiterate, he cannot see well.
"I had an audio Bible, so I gave it to Emilio," said Tim. "You should have seen the smile that spread across his face. He told me that he had never received a gift in his entire life."
After the feeding program, Tim took Emilio to an eye doctor in Huancayo. Unfortunately, his poor eyesight is caused by a neurological problem. "Emilio's eyes filled with tears when I told him that glasses would not help him see more clearly. The doctor gave us the name of a neurological doctor in Lima, but this is probably not an option due to finances," said Tim sadly.
"We become so tired feeling helpless in situations like these, but God always steps in and takes control. Please pray that the Lord will wrap His arms around Emilio and he will continue following Christ."
*Pseudonym used to protect the identity of the young man.