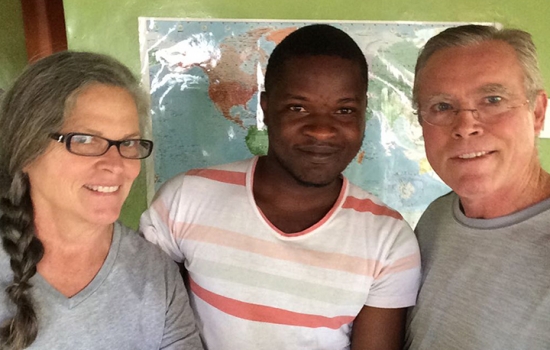 09.13.2018
Uriah's future seemed hopeless. Born during Liberia's 14-year civil war, Uriah's family fled their home and tried to survive in the bush. They searched for food each day and attempted to find shelter, which was particularly difficult during the six-month rainy season. Crime was rampant in the bush as many Liberians left their homes and did whatever they could to survive.
Uriah's aunt, Tete, worked as a social worker at a Catholic hospital in Monrovia. She invited him to live with her and attend school. Uriah moved in with his aunt and began to attend school for the first time in his life.
In 2014, the Ebola crisis struck Liberia. Tete contracted the disease and died. Uriah was left with no family, no food, and no home. He began work as a night watchman and barely made ends meet.
Randy and Pati Walche moved to Liberia in 2017 to serve as cross-cultural witnesses with TMS Global. Uriah became the Walches' night watchman, and Randy and Pati got to know him.
For the first time in his life. Uriah shared about the trauma of his childhood and all of the loss he had experienced. He found some healing in expressing his story and his feelings.
After living in Liberia for a time and witnessing the immense trauma that most people have experienced, the Walches decided to begin teaching Trauma Healing workshops.
"Liberians have been traumatized by the long civil war, Ebola, the lack of education, the lack of trustworthy leadership, widespread corruption, and other factors," said Randy. "Trauma is deeply embedded in the people here."
In 2001, Harriet Hill, Margaret Hill, Richard Baggé, and Pat Miersma wrote "Healing the Wounds of Trauma: How the Church Can Help." The authors wrote the book to address the pain many of them experienced through serving as cross-cultural workers in areas where war, genocide, famine, and widespread disease had occurred.
The book guides groups through 11 lessons about trauma, healing, forgiveness, and how to cope with painful experiences. "The Trauma Healing program is an experience in finding healing through taking one's pain to the cross," said Randy. "Jesus is the path by which we are rescued, restored, healed, made whole, and through Him we can build a new life."
Nancy Writebol, a SIM (Serving in Mission) worker who was serving with the ELWA (Eternal Love Winning Africa) Hospital in Monrovia, Liberia, contracted Ebola. She survived, and later returned to Liberia to teach the Trauma Healing classes to Liberians. The Walches trained under Nancy and began to teach the course themselves.
Uriah attended the Trauma Healing workshops taught by the Walches. The first lesson is "If God loves us, why do we suffer?" "Uriah learned that God uses suffering to test and purify our hearts," said Randy. "He also uses our suffering to comfort us so that we can comfort others. It became real to Uriah that God is always with him. This freedom has opened his life to a deeper walk with God and others."
Uriah has now completed the facilitator training courses for the Trauma Healing workshops. He and other leaders from his church will soon teach the courses, offering others freedom from the painful experiences that so many Liberians have faced.
The Walches continue to teach Trauma Healing classes each month, as well as train other facilitators to lead the workshops.
"We've learned that Liberians' experiences in war, poverty, corruption, and Ebola are many and run deep," said Randy. "The Liberians are very resilient people, and it is amazing to see the transformation come over their faces as they apply the steps for healing from the workshop.
"The truth sets people free. Being heard starts that healing process."
Next steps:
Pray for Randy, Pati, Uriah, and all of the other trainers who seek to offer healing to Liberians.
If you are interested in exploring serving in Liberia, contact our mobilization department and a mobilization coach will be in touch with you.
Your support enables TMS Global to train, mobilize, and serve workers, like Randy and Pati, who share the hope of Jesus with people who have experienced tremendous loss. Give now to provide healing to more people.