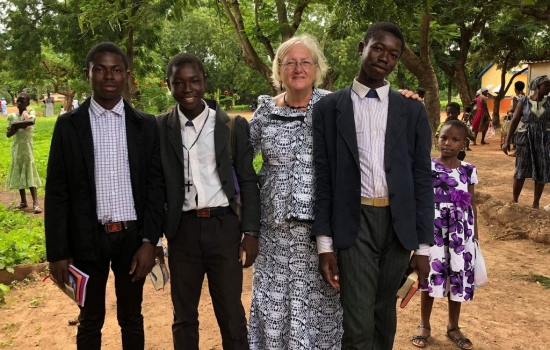 09.20.2018
Sue Kolljeski grew up in Erie, Pennsylvania, never imagining that she would one day reside in the hot, sub-Saharan climate of northern Ghana.
Sue participated in a short-term mission trip to Russia with her home church, ministering at a camp for orphans. "After that trip, I knew that someday I would be living overseas and telling people about the love of God," said Sue. "The children we worked with knew rejection and abandonment. I wanted them to know about God who loves them so much that He would never leave them or abandon them, no matter what."
Sue planned to return to Russia as a cross-cultural worker, but her path was redirected to Ghana. As Sue settled into her new life in West Africa, she prayed about how God would use her in this new land. Sue co-founded the Special Needs Awareness Program (SNAP) to assist children with disabilities and train their caretakers. After several years, Ghanaians took over the leadership of SNAP, and Sue began to wonder what was next.
It was then that Sue was asked to serve as one of the lay pastors of two village churches. Although this was far out of her comfort zone, Sue accepted the role. She preached in the villages of Kalsagri and Kunyukuo regularly, and pastored in other churches in the area as well.
"I have seen people take off their juju (voodoo charms) and place their trust in Jesus Christ," said Sue. "I have seen people come running to the Lord because of a dream they have had in which He called to them. I have seen people so excited to read the Word of God in their own language for the very first time. I have seen people rise up out of the congregation and become leaders of their church. It is not because of anything I have done. It's because the Lord is drawing people to Himself."
Sue describes her primary ministry over the past seven years as a "ministry of presence." "The longer I lived here," said Sue, "the greater my desire grew to just walk around, greet people, enter their homes, sit on their verandas, play ball with kids, and be known as someone who wants to live with them."
Sue spent most of her time ministering to people during difficult periods in their life, teaching children to read the Bible in their own language, being with people, and walking through life with her neighbors. She blogged about life and ministry in West Africa at The Great Adventure.
"I have always wanted children and grandchildren of my own," said Sue. "I have never birthed any children, yet God has given me plenty of children and grandchildren in Ghana. The calls of 'Makum, Makum' (translated as 'grandmother') is music to my ears. I have seen my grandchildren of all ages learn to read, become nurses and teachers, and, most importantly, I have watched them become men and women of God."
As Sue prepares to retire to Pennsylvania, she has some advice for people considering cross-cultural ministry. "No matter where you go, go as a learner and with an open mind. As much as possible, live as the local people live. How you live will speak volumes louder than anything you will say. Trust God in this great adventure. He will not disappoint."
Next steps:
Pray for Sue as she transitions from Ghana to the US.
Complete a short form to get in touch with our mobilization team and explore cross-cultural ministry.