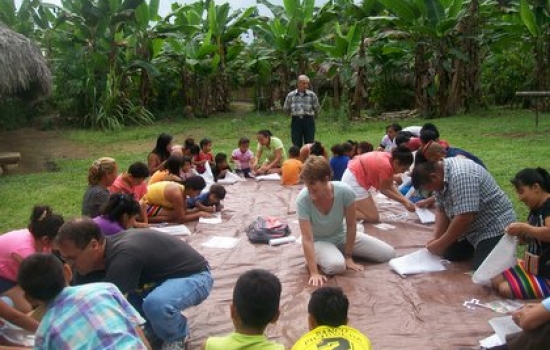 12.09.2014
Have you ever made a mistake, only to have God use it for His purposes?
That's what happened to Graham and Sharon Nichols. Graham and Sharon minister in Ecuador, primarily to children through kids' clubs, Bible studies, and music.
While in the US, Graham purchased a tarp to cover the bed of the truck he and Sharon have in Ecuador. "I was in a hurry and grabbed the only tarp the store had left. I figured a tarp was a tarp, and I threw it in the suitcase before our flight. When I unpacked the tarp in Ecuador, it was large enough to cover Noah's Ark!"
A few weeks later, Graham and Sharon were teaching a Bible lesson to the children and adults of the Chiguilpe people group. The Chiguilpe live on a reservation in Santo Domingo. Many of the Chiguilpe people rarely leave the reservation. Some men still color their hair with red paint and wear the traditional attire, such as cloth skirts.
The thatched-roof church in this community has dirt floors and no tables or chairs. When it was time for the craft, Sharon spread out the giant tarp on the grass. At first, the people just stared at it—and at Graham and Sharon.
Then Graham sat down on the tarp, and the adults followed. The kids began to roll around on the large, brown tarp, squealing with delight.
Seventeen people came to the Bible lesson the first week. Thirty-six came the following week. The group continued to grow, and now 120 people squeeze onto the once-too-large tarp to hear a Bible lesson every Saturday. Many of them walk 10 miles to attend the event.
"The tarp is getting to be too small now, but it is filled with God's people – all sitting on the ground, eager to know Him more. God saw something in that oversized tarp that we didn't. He knew that He would lead people to fill it to overflowing. I love how He works. To God be the Glory," said Graham.
Graham and Sharon Nichols serve in Ecuador, ministering to children and adults through discipleship, music, ESL, and church planting.