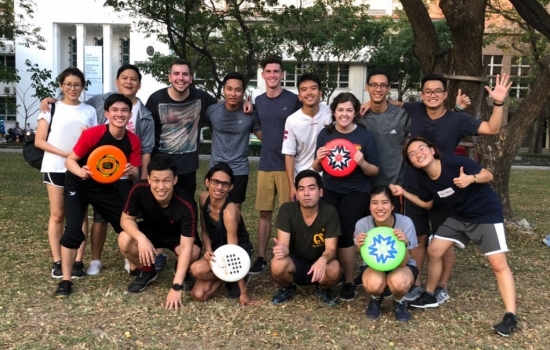 03.25.2019
Cho* was born in Myanmar and lived in poverty. He had to quit school at age 12 and help take care of his siblings.
At age 18, Cho moved to Thailand in search of work. He began working in a cafeteria and taught himself Thai. Cho wanted to learn English so he could better communicate with people when he was serving food at work, so he began to watch YouTube videos in English.
One day, Cho saw a young American man teaching English to a group of Thai youth. Thomas* is a TMS Global cross-cultural worker who serves in Bangkok, Thailand. Intrigued, Cho asked Thomas if he could learn English too.
Thomas teaches English and builds relationships with Thai youth. Through teaching he can form relationships with his students, share about Jesus, and disciple them in faith. Thomas plays ultimate Frisbee each week with a group of students and intentionally spends time hanging out, drinking tea, and investing in the lives of his Thai friends.
As Cho spent more time with Thomas, Cho began to ask questions about Jesus. Cho repeatedly asked Thomas why he taught English for free. "I would always tell him," said Thomas, "I want to help people like Jesus has helped me."
Cho began attending church with Thomas and his new friends from ultimate Frisbee. Somchai,* a Thai young man who came to faith through the ministry of other TMS Global workers in Thailand, also became friends with Cho. Somchai and Thomas were able to explain to Cho what it means to follow Jesus.
Cho has had to leave Thailand suddenly to attend to family matters in Myanmar. "For several months, we were able to teach Cho English, include him in activities, and live life with him," said Thomas. "Cho was able to hear about Jesus, and he continues to grow closer to Him. I pray that the seeds that were planted in him will continue to be watered and grow while he is in Myanmar."
*Pseudonyms used for privacy.
Next steps:
Pray for Cho's faith in Jesus to increase. Pray that he would be able to attend church in Myanmar.
Pray for Thomas and other workers in Thailand. Pray that they would be effective in sharing the gospel with Thai youth.
Make a donation to TMS Global. Your support enables us to recruit, train, and support workers, like Thomas, in 39 countries around the world. Thank you for partnering with us in ministry!