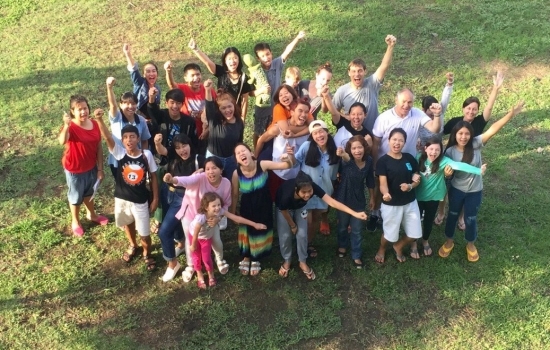 07.11.2017
Chris and Dora Barbee serve in Roi Et, Thailand, a remote and impoverished region of the country. Since 2010 they have been teaching English classes, music classes, and discipling Thai youth in their relationship with Jesus. Each year, they host a month-long academic and Bible camp in Bangkok for middle- and high-school-aged students.
Here Chris describes the impact camp had on the students' lives, and how God transformed him as well.
What does it mean to walk with people through the trials, tribulations, celebrations, and the grit of daily life? Sometimes it means sacrificing the many for the few, and grand ideas for simple, intentional actions. At least, this was the lesson God recently taught me about ministry.
Our team of six in Thailand, composed of both Thai and Americans, seek to reach out to as many Thai students as we can. Collectively, we teach English and music to about 350 students a week. Our hope is that, through spending time with these students, God will draw many of them to ask, "What makes you different?"
After seven years in Thailand, many students have asked this very question. Through building relationships with them in class, our team has been able to start Bible studies and youth groups with the kids who want to know more about Jesus.
We share life together, study the Bible, mentor them as they make important life decisions, and watch God work in their lives.
Each summer, our team leads a month-long academic camp for students. We teach English, music lessons, and several other subjects to students while we live together in a church in Bangkok. Usually, around 40 students attend camp. This year, only 21 registered.
I felt stressed as we prepared for camp. I thought we needed more students and tried in vain to recruit some. However, our team kept telling me, "More is not better, Chris. Maybe this is exactly who God wants to attend."
It turns out, they were right. While I wanted to impact as many students as possible, God wanted us to have a bigger impact on a smaller number of kids.
For 30 days, our team, church members, and former students gave amazing testimonies of how Jesus has transformed our lives. This year's theme was "You are what you believe." We wanted the students to understand that they are special, able, and capable of making their own wise choices. We also wanted them to discover that they are children of God. With more one-on-one time during this camp, the students truly seem to have owned these realities and it is changing the way they live!
Since camp, we have seen tangible results of the time we invested in these students. First, we have kids in grades seven through 12 who are deeply committed and excited about learning more about Jesus, and they understand that He will bring benefit into every aspect of their lives. In fact, almost all of them stood in church the last Sunday of the camp to acknowledge that they want a relationship with Jesus!
Secondly, these students are more confident in their abilities as English speakers and leaders. Some of them are becoming mentors to the elementary-aged students who are learning English.
Third, four students have committed to participating in a discipleship group with Dora and myself. We will meet weekly in our home and study the Bible together. These young women are also stepping into ministry and want to regularly lead a worship service at the English center where we teach.
I still have a lot to learn about ministry, but God has made it abundantly clear to me that, just as Jesus focused His ministry on the few, we will see greater fruit when we invest deeply as well.
Please pray for these Thai students as they explore faith in Jesus. May we always remember to put aside our grandiose plans and our busyness if those things are keeping us from being in deep relationships.