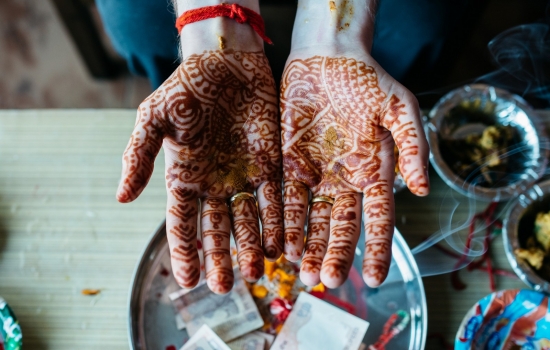 03.30.2020
"As I'm writing this I am literally crying with tears of gratitude," wrote Laura, a cross-cultural worker who serves in South Asia. In the area where she and her husband, Sam, serve, seeing people turn to faith in Jesus is not very common.
Laura is a trained nurse who uses her skills in a local hospital and teaches English to neighbors. Sam works as a teacher in a local school. The couple intentionally forms relationships in their community and shares the gospel with people who are open to learning more about Jesus in this strictly Buddhist nation.
Sam and Laura are rejoicing in the ways they see the Holy Spirit at work around them. Here are some of their stories.
Yun is a friend of theirs who has lived with them for several months. Sam and Laura have shared the gospel with Yun, and she has asked many questions about following Jesus. As the couple prayed with Yun, she said, "I don't know why, but I feel so different every time you pray for me. I feel so good inside." Laura gave Yun a Bible to read while she was visiting family. Laura said, "Yun was so excited and asked where she should begin reading."
Khin wanted to learn English, so she began meeting with Laura each day for lessons. As Laura taught Khin English, Laura told stories about Jesus from the New Testament. "Just a few weeks ago, Khin had never heard of the Bible or of Jesus!" said Laura. "Now she has heard so much truth."
A small group of believers meet each week to study Scripture in this country where less than one percent of people follow Jesus. A teenaged boy attended the group for the first time a few weeks ago. His mother had been very ill, and a youth who is involved in the fellowship began praying for his mother's healing. She experienced a miraculous healing! "The teen came to our fellowship and asked how he could become a follower of Jesus!" said Laura. "The night he attended, Sam and I were teaching on the healing power of prayer.
"God has been so good. Rejoice with us in the ways He continues to draw least-reached people to Himself."
Pseudonyms used for security.
Next steps:
Please pray for the Holy Spirit to continue to draw others to Himself in this country where people have little access to the gospel.
Pray for the cross-cultural workers who are investing in least-reached people groups. Pray for health, safety, and effectiveness in sharing the gospel.
Pray for Yun, Khin, and other friends of Sam and Laura. Pray that these young adults would experience Jesus and decide to follow Him as Lord.