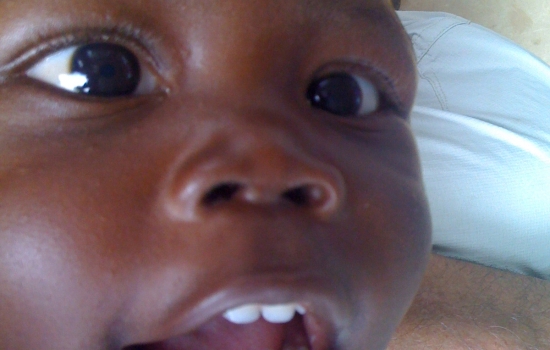 08.04.2013
Dave and Ellen Bartlett recently moved to northern Ghana to serve with The Mission Society. Here, Ellen shares a story of the rescue and healing of a perceived "spirit child."
Dave and Ellen first came to know 21-month-old Komi* through Troy and Casie Haight, the founders of One Step in Faith. Komi had been labeled a "spirit child" by the elders in his village. He was born with hydrocephalus, a condition which left him unable to hold up his head, stand or walk, track with both eyes, and other symptoms.
The Bartletts and Haights knew Komi could be helped by surgery in the nearest city. The Bartletts talked with Komi's caregiver, who agreed to the procedure.
"Life in northern Ghana is hard," writes Ellen. "These families are barely surviving. They are not educated. The only things they know are what they've been taught by their elders. So the superstitions and lies are handed down from generation to generation.

"Everyone must work in order for the family to survive. Young children care for younger siblings; older children haul water, cook, farm, and whatever else needs to be done to ensure that there is food on the table that day.

"So, a child that will not be able to work, a child that will only be a 'burden,' is seen as a threat to the livelihood of the rest of the family.
"We believe that God wants to redeem these old thought patterns. He wants to open the eyes of all who believe these lies and to prove that all life is precious.
"Komi's story is a familiar one to the people of the small villages here in the north. A child is born who has a condition - hydrocephalus, Down Syndrome, Cerebral Palsy, or any number of ailments. As time passes, the child doesn't improve. In fact, he or she becomes more of a burden.
"The superstition is that the child isn't really a child at all, but an evil spirit that has been sent to bring harm to the family. People believe that the only way to protect the family is to get rid of the evil spirit. By this point the child has ceased to be a 'person' and has been labeled a 'spirit' instead.

"In Komi's case, steps were being taken to get rid of him. Sometimes the 'spirit child' is just put out of the house and not cared for. Sometimes he or she is tied to a tree away from the village, and other times these children are poisoned. Komi was being starved.
"Thankfully, we found out about Komi in time and were able to get him to a doctor. Two weeks after Komi's surgery, we took him back to the hospital for a post-op check-up. He is doing great!
"As we were visiting Komi's family in his village, an elderly man came to greet us. Speaking only in Farefare, he gave this testimony (paraphrased):

Thank you, people! We didn't know. We didn't know. We saw the small boy and had made the decision to throw him away. We didn't know. We didn't know that anything could be done. I am so sorry. We've done it before. We've thrown away many children. We didn't know.

Now we know.

We will not throw away any more children. We understand. I'm so sorry.
"There are many more children in need of rescuing – many more children who need medical attention and, through the grace of God and modern medical procedures available just three hours down the road, can be completed healed.
"Komi's surgery (after insurance) and our expenses going and coming came to more than $2,000. Each child with hydrocephalus would need at least that much money. It's an impossible amount for families who live day-to-day.
"If you would like to contribute to our account so we can rescue more children, we would be so grateful. We are sure that God has a plan and purpose for these children."
Dave and Ellen work with One Step in Faith to rescue children. They are also helping to establish a faith-based 12-step recovery program in northern Ghana.