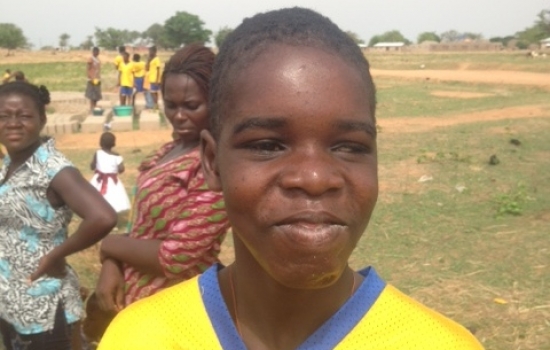 10.20.2016
In some cultures around the world, children with disabilities are thought to be evil spirits, sent to harm the family. People in these cultures believe that the only way to protect the family is to get rid of the evil spirit. In the eyes of the community, the child has ceased to be a "person" and has been labeled a "spirit" instead.
These children are often poisoned, starved, or left alone outside the village, where they eventually die. One of the ministries in which Mission Society missionaries Dave and Ellen Bartlett are involved in is to "spirit children" in northern Ghana. This couple helps rescue and provide medical care for "spirit children," as well as abandoned or neglected children in the area. The finances needed to help these children are donated from a US-based NGO, as well as those who support the Bartletts personally.
Two years ago, the Bartletts met Peter.
Peter was born to Nigerian parents who were living in northern Ghana. At a young age, Peter developed a very high fever which caused brain damage. Due to his disability, people in the village were afraid of Peter and rejected him.
Peter's mother abandoned the family. His father tried to care for Peter and his other son, Joshua, but the people in the village wanted their family to move away. Peter's father brought his two sons to Mama Laadi's foster home in Bolgatanga, Ghana.
Mama Laadi had cared for Peter and his brother for several years when Dave and Ellen met the boys. Mama Laadi asked the Bartletts to take Peter to the doctor to see if anything could be done to help him.
"Peter was regularly suffering from seizures, had no control of his bladder or bowels, and had a difficult time controlling his behavior," said Dave. The Bartletts took Peter to Tamale Teaching Hospital where he saw a neurosurgeon and had a CT scan. The scan revealed that Peter had a brain tumor.
After more medical tests and hospital stays, Peter had surgery to remove the tumor. Almost immediately, Peter's demeanor changed. He was calmer and did not have as many behavioral outbursts as before. He has gained better control of his bodily functions and is on medication for his seizures, which have improved dramatically.
The Bartletts encouraged Peter, who is now 12 years old, to attend school, and he started kindergarten last year. "He loves school so much that he does his homework before he even takes off his uniform!" said Dave.
"Many people around the world have been praying for Peter," said Dave. "Through prayers and proper medical care, Peter is a healthier and happier child than any of us ever thought possible.
"Peter may need additional surgery and radiation," said Dave. "We are trusting Jesus to finish what He has begun in this little boy's life!"
Dave and Ellen help rescue and provide medical care for "spirit children," as well as abandoned or neglected children, in northern Ghana. They have provided more than 700 Hepatitis B vaccinations for children in their area, and have worked with families regarding health and nutrition. The Bartletts teach a faith-based 12-step recovery program, Celebrate Recovery, in a local Bible school. More than 120 students have been trained to lead Celebrate Recovery, and have started groups in Guinea, Ghanaian prisons, and other locations.