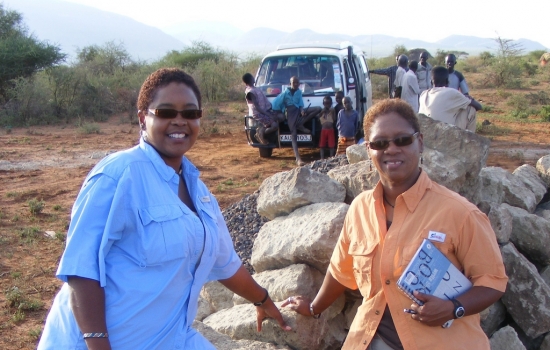 09.19.2017
Dalila* never knew love.
Growing up in Kenya, Dalila's own mother physically abused her, and at age seven Dalila was sexually abused. As an early teenager, she was kicked out of her home and gave birth to a child. Knowing no other way, Dalila verbally and physically abused her son.
Dalila never finished high school and struggled to make enough money to make ends meet. She turned to prostitution to support herself and her son.
Desperate, sad, and alone, Dalila was barely surviving. Along the way, someone introduced her to Jesus and she had accepted Him as her Lord. Dalila slowly began to turn from her life of addiction and abuse.
Sonji Pass and Sonia Crawley serve in Kenya with TMS Global. They manage the KenYa Believe It ministry, which seeks to empower, equip, and transform the lives of indigenous and marginalized people. Sonji and Sonia facilitate women's conferences and lead a Discipleship Training Center for Kenyans seeking to grow in their faith.
It was at one of the conferences that Sonji and Sonia met Dalila. Dalila pulled Sonji aside after one of the sessions and said, "Can you please sit and talk with me? I don't know who I am. I don't know what I like. I don't even know if I'm loved."
Sonji and Sonia met Dalila for coffee and heard her story. Heartbroken, they offered to meet with her regularly. Because Dalila did not have any income, Sonji and Sonia gave Dalila odd jobs around their house. They spent time with her as she was in their home and included her in their lives.
Dalila was living with a relative who was engaged in the lifestyle from which she was trying to break free. Sonji and Sonia asked Dalila if she wanted to move in with them, and she agreed.
Through living in the same house and sharing life together, Dalila blossomed. Sonji and Sonia gave Dalila a personality assessment so she could start to rediscover what she liked. Dalila had dreams of becoming a chef, so they spent time nurturing her love of cooking. They taught her about time management and budgeting. They gave her a Bible, a journal, and a devotional book, and talked with her about what she was learning.
Over time, Dalila began to smile. She would talk about what God was teaching her as she read her Bible. One day, she said, "For the first time in my entire life, I know what it means to be loved."
Dalila's relationship with her son transformed as well. As Dalila experienced love, she was able to offer healthy love to her son. She no longer abused him and their relationship was restored. "I never thought I could have this kind of relationship with my mom," he told Sonji and Sonia one day.
Sonji and Sonia took Dalila out to dinner in Nairobi one night. They knew the chef, who came to their table and greeted his friends. Sonji mentioned that Dalila wanted to become a chef. The young man helped Dalila get a job at the restaurant.
Dalila is now living in her own apartment and working in the restaurant, training as the young man's apprentice. Her son comes to stay with her when he is on break from school, and their relationship is healing. Dalila has grown in her relationship with Jesus, and is experiencing love and joy for the first time in her life.
"Dalila redirected our ministry," said Sonji. "There are services for young women, under the age of 27, who are trapped in prostitution. But if you are over 27 or have a child, there is no one to help you. We want to invest in women, like Dalila, who dare to imagine that a different way of life is possible for them. Through walking with these women in love, acceptance, and pointing them toward Jesus, we can help them find dignity and a new path."
This story of love and transformation gave birth to a new ministry called "Maisha Pamoja," which means "Life Together" in Swahili. Maisha Pamoja is a creative journey of hope, healing, and restoration for women between the ages of 28-40. Sonia and Sonji hope to duplicate Dalila's story of dignity and freedom for other young women.
*A pseudonym.