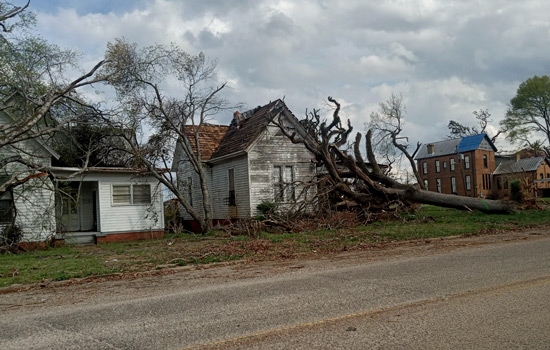 03.14.2023
On January 12, 2023, a tornado tore through Selma Alabama. The nearly half-mile wide twister left significant damage including collapsed homes and uprooted trees. Amazingly, there was no loss of life in the city. Even nearly two months after the tornado, some homes remain unlivable.
A team of TMS Global cross-cultural witnesses (CCWs) live in Selma where they serve the community year-round. In the aftermath of the storm, they shifted their focus to tornado recovery as well.
Jenifer Ford drives through a section of east Selma, where large piles of cut-up tree trunks and branches have been placed along the side of the road.
"It's really amazing to see how much they've cleaned up, and how much wood we're going to be seeing for a while stacked along the roads," Jennifer says. "It's going to be so much. We'll have firewood for days here. For years, it looks like."
Normally, Jennifer spends her time mentoring youth in Selma. She coaches a Girls on the Run program, teaches kids how to garden, and substitute teaches at an elementary school. Jennifer was at the school when the tornado hit.
"I thank God for knowing Him because I was able to calm one of my students during the storm," Jennifer says. "One student asked me to stay with her. I held her and rocked her because she was so distraught. I put on the song 'Way Maker' while we were sitting there and prayed and asked God to give her peace and comfort. I prayed for God to calm her and let the storm pass over us."
The storm did pass over Selma without any loss of life, which left Jennifer in awe of God. But there was lots of damage. Many homes became un-livable. Trees and branches were scattered everywhere. Immediately, Jennifer and her teammates Nes and Kelly Vaval and William and Morgan O'Neal looked for ways to help. Nes and William grabbed their chainsaws and began clearing fallen trees in their neighborhood. Then they moved to the hard-hit area of east Selma.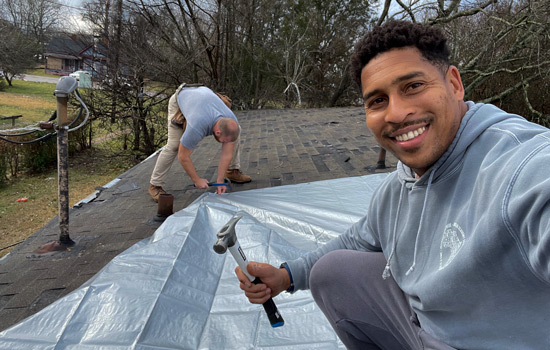 Meanwhile, Jennifer, Kelli, and Morgan baked cookies and began handing them out to people. In the days that followed they passed out meals and supplies as well.
After the tornado hit, there were several relief organizations in town. Everyone wanted to know where Jennifer, Kelli, Morgan, and their families were from.
"We would tell them we were from Selma, and immediately they would have a shocked look on their faces," Kelli says.
That shock could be because Selma is a place where people visit, but don't necessarily stick around to help. The town is probably best known for the role it played during the Civil Rights movement in the 1960's. The Selma Marches, organized to protest the blocking of African Americans' right to vote, eventually led to the passing of the Voting Rights Act of 1965. Kelli says though Selma is a historically important city, the town is struggling today.
"When you visit, you may be surprised at what the town looks like," Kelli says. "You would think maybe that because they had that monumental moment in the 1960s, that Selma might be a town that's thriving and has fully been integrated, but it just doesn't look like that here. There's still a lot of separation and our downtown looks deserted and not thriving."
Nes Vaval says the storm was a wakeup call for the city. Everyone in Selma was impacted in some way.
"The tornado basically ripped Selma open and leveled it in the sense that we can't hide anymore," Nes says. "We have to deal with a lot of things. We have to deal with the decaying of our city. And the Lord is ready for us to do to do that. And He's going to keep being patient. But I think it's time for us to turn and repent."
The Selma team's mission is to walk in unity, to heal the trauma of oppression and blindness through faith in Jesus for abundant life. The tornado has connected them with a small group of people who share that vision.
"We're just praying and hoping that we can move the needle forward. We can rebuild." Nes says.
In the weeks since the tornado hit, Kelli says there have been moments where it's hard to be hopeful. Recovery is complicated in Selma. There are people still sleeping in cars in a vacant lot because there aren't any extra houses or many affordable hotels. Many people are renters, and their landlords may choose not to rebuild.
But Kelli notes, "I've had so many conversations with people whose houses are in way worse shape than mine. Some a total loss. And they are still saying God is good and that they have hope. It's helpful for me too, that a community of believers has come together and said, 'I know that I need to fix my eyes on Jesus and that He is the hope giver, not the circumstances of what the neighborhood looks like or what people's houses look like'. It's affirmation that God is really our only hope. Our hope is not in material possessions. Our hope is not in our houses or cars or anything else. It's only in God. And I'm grateful for that because a tornado can take it all away in 10 seconds," Kelli says.
Jennifer Ford sees a glimpse of hope as she drives through a section of East Selma.
"It's amazing to see how much cleanup has occurred over the course of weeks here in east Selma," Jennifer says. "I remember how after the tornado there was so much debris. It's a testament to how much work people have done. How many hands got together and said 'we love east Selma and we want to help clean it up.' I'm so happy to see that. And I'm happy to continue to build relationships with the people we met during our time of service in this community and ongoing service to this community. It really feels good to spread God's love and words of encouragement to people."
Members of the TMS Global Selma team say they're in the community for the long haul. They continue to visit, assist, and pray with people they met during the initial tornado recovery. Now they're focused on long-term rebuilding. To learn how you can help, click here.
If you and your church would like to learn more about being agents for change and bringing the light of the kingdom to your community, click here. Our church culture team can walk alongside you as you discover your unique missional calling in your own community.