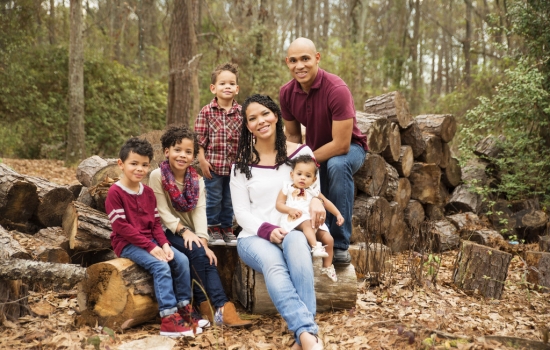 11.21.2017
"When I was younger, all I ever wanted to be was a scientist," said Richard. "I had a scholarship to Morehouse and was studying biology." However, God had other plans for Richard, which soon became clear. God expanded Richard's horizons from the laboratory to the ends of the earth.
Through a series of conversations, dreams, and visions, Richard decided to pursue a career in ministry. He transferred to Oral Roberts University (ORU) where he would earn a bachelor of arts in biblical literature with an emphasis on the New Testament. "I knew that I was called to share my faith with other people," said Richard. "When I first heard the term 'evangelist,' I knew that was what I was supposed to be."
While a student at ORU, Richard participated in a seven-week mission trip to Uganda. Although he was already planning a career in ministry, Richard's passion for the nations was ignited on this trip, and he turned his focus to mission ministry.
"As I walked the streets of Kampala," said Richard, "I just had this overwhelming sense of peace. I knew that I could see myself serving as a missionary one day."
Richard has spent his career connecting people to ministry opportunities, both locally and internationally. After completing his M.Div. at ORU, Richard served as the director of missions at a megachurch in metro-Atlanta. He led short-term mission trips and taught missions classes. In 2006, he joined the staff of TMS Global.
For the past 11 years, Richard served as the senior director of mobilization and candidacy for TMS Global. He recruited candidates for cross-cultural ministry, coordinated events, directed training seminars, and traveled extensively. Outside of his work, Richard was a sought-after speaker for a number of venues, taught Perspectives classes, and served as a volunteer for the Lausanne Movement.
Although Richard and his wife Amanda were deeply involved in missions, they sensed that God was expanding their ministry last year. "I loved my work and knew that I was connecting people to Jesus' mission around the world," said Richard. "Yet I longed to be part of God's transforming work overseas, so Amanda and I started exploring opportunities to serve."
Next year, Richard and Amanda, along with their four children, will relocate to Ethiopia to serve with TMS Global. After their initial year of language and cultural learning, the Colemans plan to partner with an Ethiopian-led ministry, lending their skills and experience to the work of equipping and mobilizing Ethiopian believers to live out their faith in both word and deed.
What is this former missionary recruiter's advice to other people considering cross-cultural ministry? "Don't overthink it," said Richard. "If you are at all interested in cross-cultural ministry, sit down with someone and explore that call. If you wait until everything is 'right,' you'll never go. Just take the first step and discern if this is something God has for you."
To explore serving with TMS Global, click the button below. We offer four terms of service. Decide which is the best fit for you, and complete the short application.