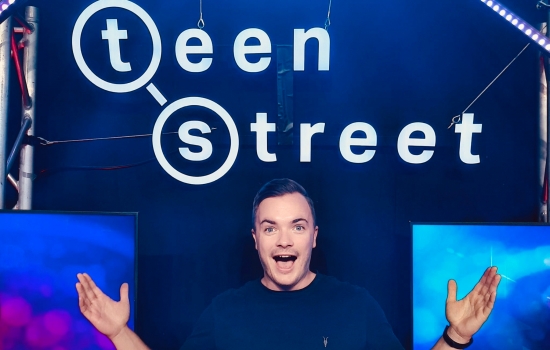 10.20.2020
During one of the strictest lockdowns in the world, a TMS Global worker in Spain found a way to continue to minister to youth all over the globe. From one-on-one discipleship via Zoom to helping to coordinate a virtual event for thousands of teens, Aaron Lewis didn't let COVID-19 stop him from spreading the gospel.
Born and raised in the United Kingdom, Aaron moved to Spain six years ago to serve in youth ministry. He teaches English and guitar and disciples teens and youth. He also leads summer camps for youth and trains groups how to use the Discovery Bible Study method of studying scripture. Aaron worked with a local church to plant a new church in another area of Spain. He also volunteers his time to mentor Third Culture Kids (TCKs) who serve with TMS Global.
In 2018, Aaron was attending a church-planting conference in Chicago. There he met a couple who serve in Belgium and help coordinate TeenStreet. TeenStreet is a week-long event held in Germany every summer. Nearly 4,000 teens from 20 countries usually gather at the event for worship, teaching, and discipleship.
The couple asked Aaron to lead worship at TeenStreet in 2019, and he said yes. When he arrived in Germany that summer, a production leader asked Aaron to share a devotion with the staff. Aaron said yes. During the week, God spoke to Aaron and told him that he would be asked to be a speaker at TeenStreet in 2020. Six months later, Aaron was asked to serve as one of the main presenters at TeenStreet. He said yes.
"I've been intentional about saying yes to opportunities that seem out of my comfort zone," said Aaron. "Like Jeremiah and Moses and other people in the Bible, there are always excuses we can make about why we shouldn't do something. But as I have said yes, God has blessed me."
When the global pandemic hit Europe, TeenStreet staff decided to hold the conference virtually. Aaron drove to Germany to help coordinate the event. He served as a Spanish translator, guitarist, TV host, jingle-composer, and speaker. He also helped to produce TeenStreet TV, which aired on Facebook Live, Instagram Live, and YouTube.
"We had nearly 3,000 teens attend TeenStreet from 45 countries since it was online this year," said Aaron. "Youth who were under lockdown in their homes could still attend. Small groups would meet at homes or via Zoom and have times of reflection and discipleship after the main speaker sessions. Teens in the Philippines could not leave their homes at all, and we heard so many testimonies about how this was an encouraging experience for them to be able to connect with other people."
Aaron served as one of the main speakers, giving several different talks throughout the week. In one session, he shared about valleys in our lives and how God uses those times to strengthen our faith. Aaron shared about his parents' divorce and about a heart condition he had that caused him to have heart problems at age 17. When he was 18, Aaron had heart surgery.
"When we're in the middle of these difficult situations, we ask God, 'Why? Why me?' But I think a much better question is, 'God, where are You in this?' Not, 'Where were You?' because that suggests an absence, but, 'God, where are You in this? What do You want to teach me through this?'"
The topic of suffering resonated with teens who are navigating a pandemic, virtual or in-person school, quarantine, less social interaction, and higher rates of suicide and depression.
"The things I've been through have prepared me for what I'm doing now," said Aaron, "God became real to me during the issues I was having with my heart. Now I have the joy of helping young people navigate the seasons of life they are experiencing."