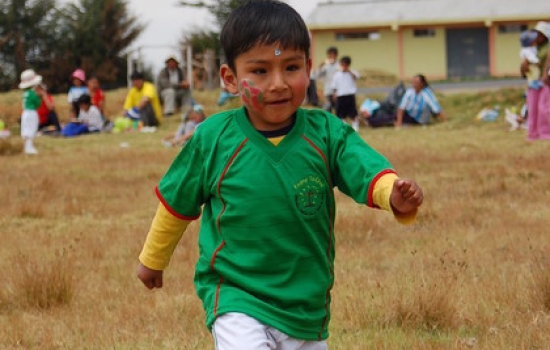 01.04.2011
Billy and Laurie Drum serve with The Mission Society in the mountains of Peru. Here they recount the story of Kenyi, a disabled boy with which they work.
"I had the distinct honor of watching the 50-yard dash today, run by a field of three- and four-year olds. Okay, I know that doesn't sound like an amazing way to spend the morning for most of you, but it was truly nothing short of AMAZING for me. You see, my favorite competitor was definitely the underdog in the field. And, true to form, he came in last. But what a glorious 'last' it was!" writes Laurie.
"Billy and I met Kenyi seven months ago when his mother timidly asked if we might consider allowing him to enroll in the Kuyay Talpuy—Iscos program. 'The other schools in The Valley won't take him. In fact, he might not ever be able to go to school. He has hydrocephalus. He can't walk. He wears a diaper because he can't control his urine or bowels. One eye is damaged from the pressure.' She rattled off all of his ailments as the precious little boy with the giant eyes smiled at us from his position wrapped in the manta on her back. 'I promise to come to school every day and sit with him and help him if you enroll him. I have to carry him,' she pleaded. The staff asked us, 'What do you think? Can we admit a disabled child?' Our response was immediate 'Why not!? Our program is for everyone. God loves Kenji, and so will we.'
"Kenyi was born with hydrocephalus. He has been through countless surgeries, and he can name every hospital and clinic where he has received treatment. He has a shunt to drain the fluid from his brain. As he grows, he will continue to need surgeries to extend and replace the shunt.
"Kenyi's mother was true to her promise. She carried Kenyi to school every day and she stayed in the classroom with him. But it wasn't very long before the teachers told her that she didn't need to feel obligated to stay; they could take care of him. Kenyi was a quick learner. He rapidly began trying to do the physical things that he hadn't ever done before, like walk. Literally step by step, Tania and Rocio walked alongside Kenyi and helped him to build strength and confidence.
"He wanted to play at recess, and so they helped him learn how to play the games. He wanted to dance at Kid's Club, and so they taught him to dance. And he wanted to run in the 50-yard dash in the Kuyay Talpuy Olympics this week.
"Seven months ago, Kenyi couldn't walk. Seven months ago, Kenyi's mother begged us to enroll him because no one else would take 'a disabled child.' Seven months ago, we said 'YES!'
"Today, Kenyi ran the 50-yard dash, unaided by any human being, but carried on the wings of angels and blown by the breath of God Himself. He never faltered. He never looked back. He never fell. He just ran his little heart out and smiled the whole way to the finish line. And everyone cheered him on!
"That's what the love of Christ about – the perseverance of people like Kenyi, and the love and faithfulness of God."
"...and let us run with perseverance the race marked out for us." - Hebrews 12:1b