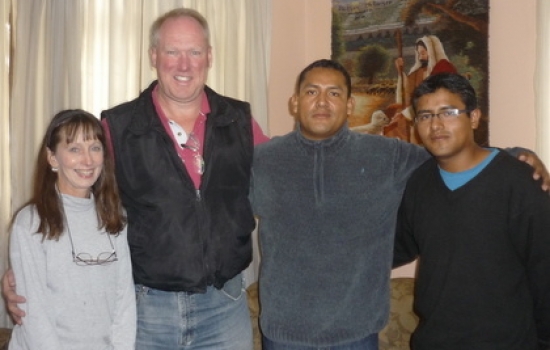 06.01.2011
Arthur Ivey, missionary to Peru, recounts the story of a family with whom he works. Flavio, a former pastor, is in prison for the murder of three people. He also sexually abused his two daughters when they were young. One of his sons, Benjamin, also spent time in prison due to the fact that his father involved in him the murder.
On Easter, Arthur accompanied Flavio's three sons, Benjamin, Jose, and Moises, to visit their father in prison. Benjamin wanted to tell his father that he had forgiven him. Benjamin, Jose, and Moises had not seen their father in more than 15 years. Benjamin personally expressed his forgiveness to his father, who was thrilled to be reunited with his sons. Flavio has been transformed by Jesus since being in prison, and leads several discipleship groups. He also participates in a group that Arthur's colleague leads.
After leaving the prison that Sunday, Jose decided to give his life to Jesus as well. Arthur said, "It was wonderful to spend Easter Sunday experiencing the Lord Jesus' resurrection power working in the lives of persons to bring salvation and restoration. Please pray that God will continue to bless this family and use them to advance His Kingdom."
Pictured above from left-to-right: Mary Alice Ivey, Arthur Ivey, Benjamin, and Jose.