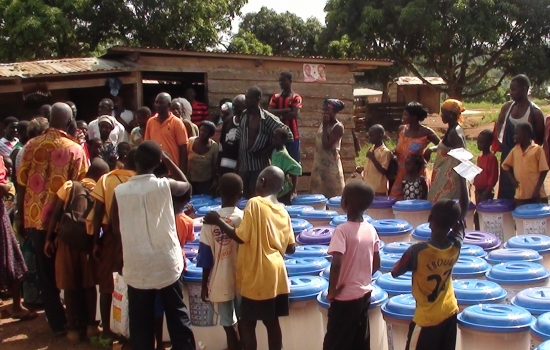 06.24.2019
Mike and Anne didn't set out to start a movement, they just wanted to provide clean water for people.
Moved by the stories of women and girls who carried gallons of water long distances each day, Mike and Anne Kelley decided they wanted to do something to help. Their idea was simple; they would save aluminum cans, recycle them, and put the money towards a well in Africa.
Mike and Anne were attending Asbury United Methodist Church in Madison, Alabama at the time. Members of the church heard about the can collection and got involved. Church members who worked at Boeing began collecting cans from work. Coworkers heard about the project and brought in their cans from home. Students at The University of Alabama at Huntsville began collecting cans. Soon the congregation had to purchase a trailer to hold all the aluminum cans being brought to the church each week.
Mike was dropping off the cans at the local recycler one day when the man taking in recyclables asked how Mike had collected so many cans. Mike explained that he and others were collecting the cans to raise money to drill wells in Africa. The man in charge of recycling the cans gave Mike more cents per pound for the cans than the going rate, essentially cutting most of his own profit.
After one year of collecting cans Mike and Anne had saved $11,500, enough to drill three wells.
Asbury UMC had hosted an Activate workshop with TMS Global years before. Asbury UMC called TMS Global to find a contact in Africa who would help them drill a well. Mary Kay Jackson is a civil engineer who was serving as a cross-cultural worker in Ghana, West Africa at the time. Mary Kay worked with the Methodist Church Ghana to bring water and sanitation to remote, rural villages.
"In Ghana alone, 30,000 children die of preventable, diarrheal disease annually," said Mary Kay. "The vast majority of these deaths are children under five years old—the future of the country."
Mary Kay partnered with Asbury UMC and three wells were drilled near the villages of Yeji and Sunyani.

Members of Asbury UMC began to take short-term mission trips to Ghana. They saw the wells, met people in the community, and learned about the water crisis. Although Mike had the initial vision and initiated the project, his National Guard unit was deployed to Afghanistan a couple of months before the first trip, and he never visited Ghana himself.
Scott Harting, a member of Asbury UMC, was part of the first team to travel to Ghana. Scott was so inspired by what he witnessed that he returned to Ghana seven times. The teams saw the need for residents in some communities to have water filters in their homes so they could purify the water that was available to them. Money from the aluminum can fund was used to purchase more than 250 water filters, which Asbury UMC team members were able to distribute to Ghanaians in four villages.
Just before Scott and a short-term team arrived in Ghana for their annual trip, tragedy struck in Yawsae, a village they had visited the year before. A young boy was working in the field with his father when he was bitten by a poisonous snake. The local clinic did not have electricity; therefore, they could not store antivenom, which must be refrigerated. The boy was taken to another clinic, but, sadly, he passed away en route.
Scott and the team had built relationships with people in the village, and they were heartbroken by the death of this young child. The team used the aluminum can fund to purchase solar panels so the village clinic could have the electricity needed to store antivenom.
Mike and Anne first began to collect aluminum cans nine years ago. To date, $37,500 has been raised for clean water in Ghana through recycling aluminum cans. Seven wells were drilled, providing water at two schools, two clinics, and three communities. More than 250 water filters were distributed, and solar panels and running water have been provided for two village clinics. One chapel building was completed, and two schools have been reroofed.
As teams from Asbury UMC and Mary Kay worked with people in these communities, they did more than provide access to clean water. Mary Kay and team members shared the gospel with Ghanaians and connected the Living Water Jesus offers with people's need and thirst for clean water.
Mike and Anne moved away from Madison, but their ministry continued.
"It's a community project now," said Rhonda Dahlin, the former missions pastor at Asbury UMC and current staff member of TMS Global. "What started with one couple grew into a ministry that impacted thousands of people in Ghana."
Water statistics*:
One in 10 people lack access to clean water (663 million people).
Diseases from unclean water kill more people every year than all forms of violence, including war. Forty-three percent of those deaths are children under five years old.
Access to clean water improves health, lessens time spent collecting water so children, especially girls, can go to school, and parents can spend more time working to earn an income.
*Statistics from charity:water.