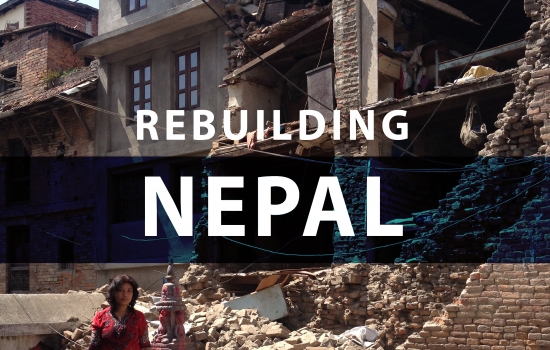 05.06.2015
A natural disaster reduces life to the basics, forcing many to ask, "What do we truly need to survive?" The answer: food, water, and shelter. Yet many living in the aftermath of the devastating 7.8 magnitude earthquake that shook Nepal on April 25 are desperate to have even those basic needs met.
In response, governments, relief agencies, and charitable organizations worldwide have launched massive campaigns to provide temporary shelter, clean water, and food for those affected by the quake and its recurring aftershocks. Mission Society personnel are also contributing to meet these needs in rural areas surrounding the epicenter of Kathmandu.
Henry* and Elizabeth* live a full day's drive from Kathmandu, yet felt the rolling waves of the initial earthquake. Buildings in their area were damaged by the quake and its powerful aftershocks. Even here, miles away from the epicenter, frightened people slept outside for days for fear of another quake occurring.
Three different non-governmental organizations from this area have banded together to help those in Kathmandu and surrounding villages. Working alongside these NGOs, Henry and Elizabeth loaded their vehicle with 150 large tarps and rope and drove through the night with an Indian friend and Nepali translator to reach the city. Half of these supplies were distributed to local pastors who, in turn, delivered them to those most in need by noon of that same day.
These same NGOs sent individuals to assess the needs of rural areas north of Kathmandu, reachable only by motorcycle. They returned with video revealing numerous villages where homes have been destroyed yet no aid had yet arrived. The team Henry and Elizabeth have partnered with is planning to return to these villages with food, pots for cooking, and materials to build temporary housing for those whose homes crumbled around them.
Henry relates that many homes are built with stones and mud, with no proper reinforcement. The hope is to help them rebuild stronger, more earthquake-resistant structures in this area, as teams travel in for a week at a time to provide assistance.
Though thankful to be alive, survivors still face urgent needs. If you would like to assist The Mission Society relief efforts to provide food, water, and shelter in Nepal, You can donate here.
*Pseudonyms used for security purposes.