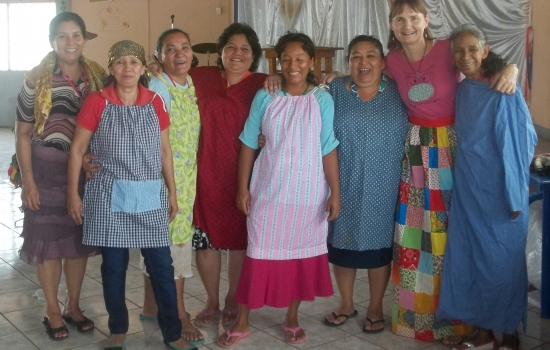 07.14.2014
Ronnie and Angi Hopkins have served with The Mission Society in Nicaragua since 2006. They work in community development, mostly in remote regions of Nicaragua, helping people in these areas address their needs for health care, economic development, and education for their children.
Here Angi shares the story of the miraculous healing of a pastor's wife with whom they minister.
Azucena is a pastor's wife and a close friend of ours. She and her husband have six children and one grandchild. In addition to raising her family, she is very involved in church, is a sewing circle leader in our ministry, and serves with us in spiritual counseling and evangelism.
Azucena was diagnosed with a tumor on her pituitary gland and had surgery here in Nicaragua to remove it in September 2013. The surgery was unsuccessful, and there was nothing else the doctors could do for her.
After working for months to try and get Azucena to the US for surgery, two doctors from Grady Memorial Hospital in Atlanta agreed to travel to Nicaragua and do the surgery for free. They secured the equipment; we found a private hospital in Managua that would allow them to operate there, and we filed all of the necessary paperwork with the government. The surgery was scheduled for May 17, 2014.
Two weeks before the surgery, Azucena had an appointment with the local neurosurgeon, Dr. Pedro. Based on some symptoms she was having, he ordered a CT scan as well as some lab work.
One week later we had a follow-up appointment with Dr. Pedro so he could review the tests. When he looked at the CT scan, he asked twice if this were indeed Azucena's film. There was little evidence of a tumor.
However, a CT scan is not a very definitive test for a tumor, so he ordered an MRI. Azucena had the MRI done, and we took the films to Dr. Pedro to review. He confirmed that there is barely a remnant of a tumor and that surgery would not be needed!
All of the results were sent to the neurosurgeon in the US, and we received an email from him in which he concurred with Dr. Pedro's conclusion. He said, "Azucena's tumor has dramatically decreased in size. There are only two other cases reported of patients with a spontaneous involution of a pituitary macroadenoma."
The recommendation is that Azucena be evaluated by an ophthalmologist and an endocrinologist, and have regular follow-ups. She will also have repeat MRIs because these types of tumors occasionally have a growth spurt.
Azucena shared that this entire time (it has been nine months that we have been trying to get her medical care), she has put this situation into God's hands and trusted Him with it. She knew that many, many people were holding her up in prayer.
Several weeks ago, we held a sewing workshop, and the sewing circle leaders prayed over her. Azucena told us that she had had a deep sense of God's presence with her during that time of prayer. It was later that day that she had her first appointment with Dr. Pedro.
This has been an incredible journey, and at this moment I am filled with a deep sense of awe and wonder as I gently chastise myself, "Why do I ever doubt?"
Photo: Azucena (fourth from left) at the sewing workshop when the women prayed over her.