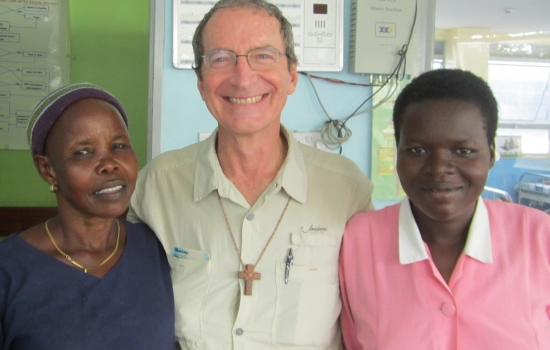 03.21.2019
Sometimes things do not work out the way we planned. More often than not we have to be flexible and learn to adjust our expectations. For anyone serving in cross-cultural ministry for a long time, change is the norm.
Lynn and Sharon Fogleman have served in medical ministry throughout their careers. Both family physicians, the couple spent 10 years serving as doctors at Maua Methodist Hospital in Kenya, followed by 14 years at the Red Bird Clinic in Kentucky.
In 2012, Lynn and Sharon joined TMS Global and moved to South Sudan where they provided a health education program through local churches, led Community Health Evangelism (CHE), and trained local health care workers. The war in South Sudan forced them to relocate to Uganda in 2016, where they served the South Sudanese refugee population through medical care.
Unforeseen circumstances led the Foglemans to leave Uganda and move to Colorado in late 2018. Instead of looking ahead to retirement, the couple is diving into a new ministry that will take them around the world.
Lynn and Sharon have teamed up with TMS Global and Global Refuge International (GRI), a non-profit that serves refugee populations in northern Uganda, the Democratic Republic of Congo, and Myanmar (Burma). GRI supports health care clinics for refugees and trains some refugees in the camps to assist their own people in maintaining their health. Individuals are instructed to teach in their communities, and taught how to provide early treatment of common illnesses like malaria. GRI employs these refugee health care workers, and, in doing so, teaches them skills that they can continue to use in the future.
"We will be training healthcare workers among refugees as well as other at-risk communities," said Lynn. "We hope to broaden and deepen the training that GRI is currently able to provide its health workers in the areas of disease prevention, trauma awareness and healing, and improved care of mothers and newborn babies."
As the refugee crisis in the Middle East and Europe grows daily, so do the needs in the camps. Food, medical care, and other basic needs are difficult to meet as more than 68 million people are currently displaced.
"This can be a time of transformation as refugees learn self-care and self-sufficiency—important skills while living in the camps and also for when they ultimately get to return to their home country," said Lynn. "And, in hearing the gospel of Jesus, their hearts can experience the greatest change, transforming their lives, now and eternally."
Next steps:
Pray for the 68.5 million refugees and internally displaced people around the world.
Pray for the organizations and aid workers who minister to refugees.
Consider serving with TMS Global. We have workers who are ministering to refugees and can help you find your place to serve.