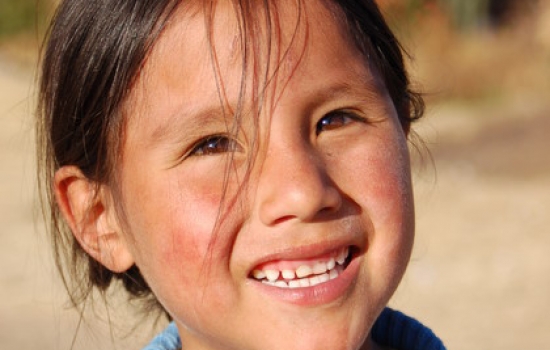 04.27.2011
Billy and Laurie Drum minister in Huancayo, Peru as teachers. Both having spent many years as teachers in the U.S., they have a heart for education and are called to help children and families who do not have the ability to obtain an education in Peru. They founded the Kuyay Talpuy program, which means "sowing seeds with the love of God" in Quechua. Through the Kuyay Talpuy education centers, the Drums are able to touch the lives of children, their families, and their communities. Laurie and Billy are also active in community health outreach and discipleship programs.
Here, Laurie tells of her encounter with a young girl on the coast of Peru.
"She stands on the edge of the scene, watching tourists drink margaritas and piña coladas and enjoy their day on the beach under thatched grass huts, their toes dipping in the white sand. This is her beach. Her village lies just over the hill. This is just one day in 'paradise' for them, but just another ordinary day for her.
"She timidly wanders up to our table carrying a handful of trinkets to sell. No smile, no eye contact, a mumbled sales pitch with no hope that we will actually buy something. Her face registers both surprise and a little fear as we actually speak to her in her native language (Spanish).
'What do you have?' I ask.
'Little insects and animals,' she replies as the little wooden bobble headed trinkets wiggle and wobble in the box lid she carries. She tells me their prices.
'They are cute. Which one is your favorite?' I ask.
'This one—the caterpillar,' she smiles.
'I like that one, too,' I smile back. 'How old are you?'
'Seven,' she answers. Her response completely slays me. She's the same age as my daughter, Sarah. I almost can't complete my conversation because I am so suddenly and deeply wounded by the reality of this child.
"Her name is Iris. She goes to school in the morning and gets off at noon. She turns from elementary student to family salesgirl every day. I visited more with this precious street angel then had to end our conversation because the restaurant owner was getting angry that we were entertaining an unauthorized 'street vendor.' I hugged Iris before she continued making her rounds, table after table, trying to sell the remainder of her trinkets until she had exhausted the current tourists and their inability to understand her.
"Eventually, she put down her wares and headed for the edge of the water. And then, an amazing transformation took place. Iris began to dance. She danced and twirled and jumped, all the while smiling with her eyes closed and her head tilted high to the sky. We watched her dancing in the surf on the wet sand, sunshine sparking like jewels behind her in tiny wet footprints.
"My heart was crushed by her. After the imaginary music stops, Iris sat in the sand and begins to build a sandcastle with her hands. And in that moment, God struck me with such clarity: She's a princess. She's an heir to the Throne. She's a child of the Most High King! She's seven years old. She wants to build sandcastles and dance and be a princess.
"After her brief time as a child on the beach, she collected her trinkets and went back to the tables to sell to tourists who don't pay her any attention. I begin to sob. I had prayed for God to give me eyes to see these children as He does, but the pain is immense. This is the reality of so many children around the world. Not just in Peru, but all around the world. We have had occasion to meet these children in Mexico, Guatemala, Ecuador, and Costa Rica in the past two months. They are everywhere. And their stories are all similar. We can't save them all, but we can do our part in Peru. Never stop praying for our little princes and princesses!"
How you are helping children like Iris
An estimated "60%-70% of the children of rural Peru do not have the opportunity to go to school," report missionaries Billy and Laurie Drum. Through their ministry, you are being used by God to help children get an education. And through these children, the gospel is spreading in amazing ways.