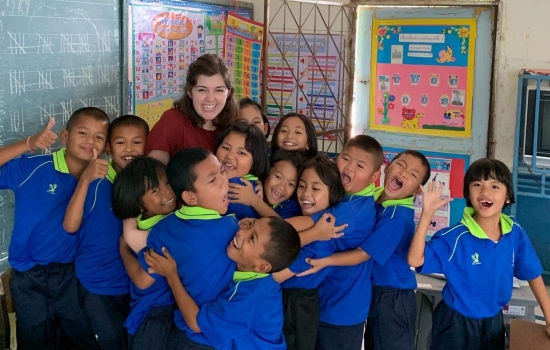 02.20.2020
Nam* was discouraged. All week she looked forward to Tuesday night Bible study with the TMS Global workers in Roi Et, Thailand. This week, however, the monsoon rains and strong winds had downed trees and caused power outages.
While most area schools had closed due to the storms and flooding, the welfare school where TMS Global workers serve is a boarding school. Because the students were unable to leave, classes went on as usual.
Brooke, who serves in Thailand, had to shout to teach English to her class over the pounding rain on the tin roof. Brooke explained to Nam and the other students that they would not be able to have Bible study that night unless the power came back on. It was 4:30 in the afternoon, just two hours before the study was to begin.
Nam timidly asked, "Can we pray?" Brooke agreed, although not all of her students attended Bible study. Nam began to pray boldly, praising God and asking Him to stop the rain and restore the electricity in time.
Brooke said, "At approximately 6:20 pm, the rain stopped. Minutes later, the power came back on. Bible study was a go. That night, a huge group of kids gathered to sing and study the Word together. We were able to celebrate the goodness of a God who hears and answers our every prayer, even in ways we might not expect. God used something as simple as a change in the weather and some electricity to create such a tangible demonstration of His love for us. I couldn't believe the bravery and faith of Nam to stand up and pray in front of all her peers, especially at a Buddhist school. Please join us in praying that God continues to show up in big ways for our students as they seek Him."
*Pseudonym