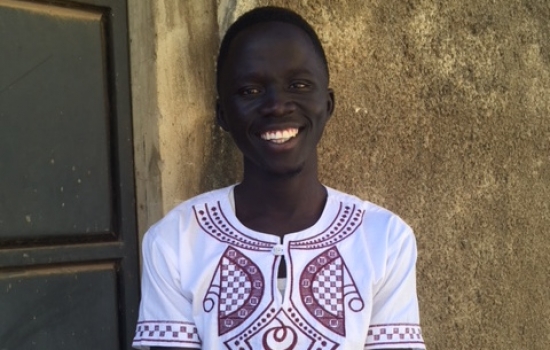 12.18.2019
Yikii is the youngest of six children born to a Ugandan pastor and his wife. Yikii always did well in school and dreamed of becoming a doctor or nurse so he could help people. He was enrolled in nursing school, but he had to drop out because his family could not afford the school fees.
Lynn and Sharon Fogleman are TMS Global cross-cultural workers who have served in medical ministry throughout their careers. Both family physicians, the Foglemans spent 24 years serving in Kenya and at the Red Bird Clinic in Kentucky before moving to South Sudan.
A generous donor gave the Foglemans money to award medical scholarships to any men and women they knew who possessed the potential and desire to work in the medical field.
Nancy Peed and Carolyn Goodwin serve in Uganda with TMS Global. Nancy often serves in ministry with Yikii's father. Through him she met Yikii and was immediately impressed with the young man.
Nancy discovered that Yikii had dropped out of nursing school and connected him with the Foglemans. Nancy helped him apply for a medical scholarship, and he was accepted.
Yikii finished his certificate in nursing in 2018. He is currently pursuing a degree in nursing and is doing a practicum in Yei, South Sudan, caring for people who have been hurt in the war.
The World Health Organization ranked Uganda's healthcare performance as 186th out of 191 nations. Ugandan's health and life expectancy are among the lowest in the world.
Yikii dreams of opening a healthcare center one day to increase access to medical care in the region where he lives. He has a passion to teach people about disease prevention and improve the lives of his fellow Ugandans.
"Yikii is so thankful to God for sending him the help he needs to complete his training," said Nancy. "God did for Yikii what he and his family couldn't do!"
Lynn and Sharon have also awarded scholarships to five other students who are studying nursing, midwifery, and clinical officer training. Sharon said, "It is such a joy to share this gift from the donors with worthy young people. They are thrilled to have this major step in education."
TMS Global is looking for additional people to serve in medical ministry. You can find our full list of personnel needs listed below.