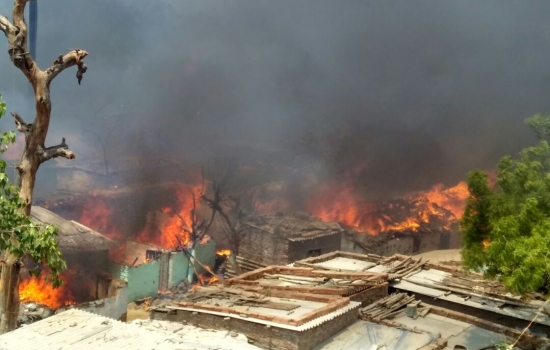 12.12.2016
When a fire broke out in a slum neighborhood in northern India, Mission Society missionaries raced to help. Alongside local residents, they fought for hours to put out the flames. Unfortunately, most roofs were made of grass, and the fire spread rapidly.
At the end of the day, 100 homes were damaged and 65 families lost all of their belongings. Amazingly, no one was killed in the fire.
Mission Society missionaries who serve in the area run a business near the neighborhood. Six of their employees live in the slum. When news of the fire reached the office, the employees all stopped and prayed. Although they come from Muslim, Hindu, and Christian backgrounds, the staff prayed for Jesus to protect their homes. They prayed for the protection of each employee's home by name.
The staff then walked to the neighborhood to survey the damage. The houses surrounding the employees' homes had burned to the ground, yet each staff person's home had been spared. "It was an amazing witness to our staff that our God hears our prayers," said Leah.*
Supporters of this missionary team donated money to help the victims. With the funds, the missionaries were able to purchase 65 large steel storage trunks. Each family who lost their home received a storage trunk in which to keep what little they have left. The missionaries also helped these families replace or repair work tools which were lost in the fire. The tools are essential for the adults to be able to return to work and provide for their families.
"We sense a new openness towards us from members of this community. Pray that God would continue to open doors for ministry in that place. Pray for wisdom as we continue to reach out to victims of the fire, and for God to be glorified in that community," said Leah.
*Pseudonym used for security purposes.