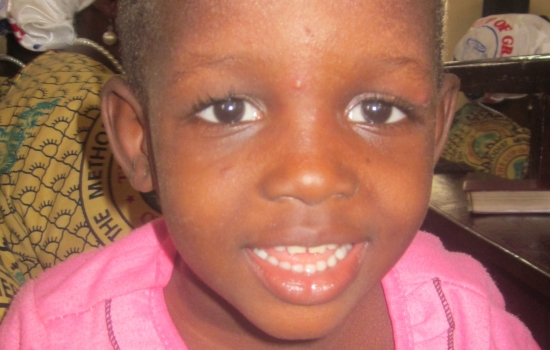 10.10.2013
In parts of Africa, human atrocities are being committed to disabled children. Sue Kolljeski, a Mission Society missionary to northern Ghana, encountered a cultural practice that only the power of God could possibly change. Here is her story.
"Ghanaians from some traditionalist religions believe that children born with disabilities or special needs are possessed by evil spirits and will bring destruction upon all the families in a community. Most decisions in Africa are made by the community to determine what is best for their area. 'Spirit children' or 'baby snakes,' as they are commonly referred to, are often poisoned to death because of this belief.
"Kristabel is a little girl who was born into one of these communities. She was the fifth child born to her parents, Dery and Vida, and soon after her birth it was evident that she didn't appear 'normal.' She could not do anything a baby would typically do because she was very weak. At three months of age, Kristabel still couldn't control her neck movements because she had cerebral palsy.
The local community thought that Kristabel had an evil spirit. They pleaded with Dery and Vida to take her to the Fetish priests who would mix a poisonous concoction and force feed it to the little girl. If she died, they believed it would confirm that she did indeed possess an evil spirit. Even Kristabel's own grandparents wanted this.
"Kristabel's parents, because they were Christians and believed in the power of God, stood their ground against the cultural norm and refused to have Kristabel poisoned. They declared to the community that Kristabel was a 'gift from God' and that their 'princess' one day would walk!
"For two years, Kristabel did not walk. But by the age of three, she was not only walking, but running! Kristabel's grandmother had refused to call her anything but 'Cripple.' She now also refers to her granddaughter as 'Princess' and says, 'Dery's God is the true God. Only He could have made Kristabel walk!'
"Kristabel will begin attending school with her younger brother this month. The members of the community have also been so deeply touched by her miraculous healing that they now believe in the power of 'Dery's God Who is the Lord, God Almighty.'"
The special needs children of in this part of Africa are outcasts from their culture. That is why Sue Kolljeski began the Special Needs Awareness Program (SNAP). This program enables Sue to raise awareness regarding special needs children. Sue desires that these 'malformed' children would be seen as precious to God, and created for the community to love them rather than dispose of them.