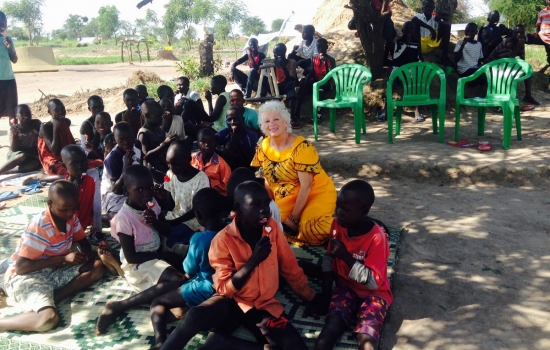 04.19.2017
When Carolyn was a child, she would eagerly await the arrival of National Geographic magazine each month. She would flip through the pages, absorbing all she could about faraway places and other cultures. She dreamed of being a flight attendant so she could travel the world.
Growing up in Virginia, Carolyn spent her days playing outside, camping, climbing trees, participating in the Boy Scouts as an honorary member, and attending church events. She loved adventure and knew God made her for a reason.
When she was a junior in high school, Carolyn was not allowed to apply to serve as a flight attendant because she wore glasses and did not meet the high requirement. Although she was very disappointed, she remembers, "I knew God had a plan for me."
She enrolled in computer programming classes and worked for the Department of Defense. Years later, Carolyn found herself divorced and living in Texas with three children to support on her own.
"Church became my foundation. I owed everything to Jesus. I wanted to be a missionary because I thought that was the least I could do for Him," said Carolyn.
She researched mission organizations and discovered that many required two years of college. She told Jesus that He would have to help her get into school so she could be a missionary. One month later she began college while working part-time and raising her three children.
Carolyn earned a bachelor's degree in nursing and worked for 20 years as a computer consultant in hospitals. "I knew that I was to serve as a missionary wherever I was," she said.
At a church in Atlanta, Carolyn had a pastor who was passionate about missions. She traveled on short-term teams to Mexico, Haiti, and the Dominican Republic. On a trip to Kenya, Carolyn heard an audible voice say, "Now is the time." She knew God was calling her to serve full time as a missionary.
Carolyn returned from Kenya on Saturday and contacted TMS Global Monday morning. She was approved to serve and was placed on a team in South Sudan. She was ministering there when the war broke out, and she was evacuated. She is now serving with a team in Uganda.
"All things happen in God's time. I can see how He used everything in my life to prepare me for cross-cultural ministry. Only God could have orchestrated my life events and fulfilled the desires of my heart that began in church when I was a child to bring me to minister in Uganda 66 years later."
Your donation helps TMS Global train, mobilize, and serve missionaries like Carolyn. Thank you for joining Jesus in His mission to the world.