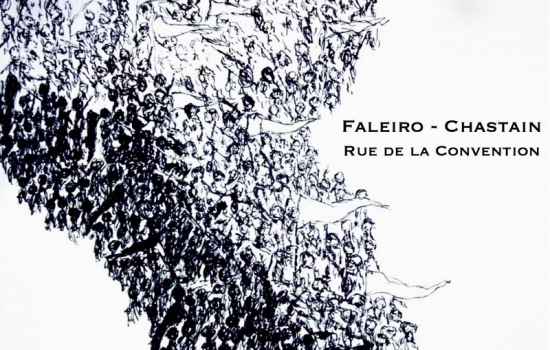 09.26.2017
Two TMS Global cross-cultural workers collaborated to produce a new album. Charlie Chastain, who serves with his family in Estonia, and Gustavo Faleiro, who previously served in France, just released "Rue de la Convention," by Spark Recordings.
Before serving with TMS Global, Charlie was a touring songwriter and played in several bands. He met Miki, who would become his wife, at one of his concerts. With the desire to travel less, Charlie pursued a degree in audio production and began to work for a studio in New York City. "I thought that would be our lives," said Charlie. "But our passion for participating in God's mission was always in the back of our minds."
Years later, Charlie and Miki moved to Russia to work with orphans and street children. While in Russia, Charlie helped the Russian Methodist Church write and record music. "All of the songs people sang in church were written in other languages and translated into Russian," said Charlie. "They simply needed encouragement to write in their own voice."
Charlie, Miki, and their three children now reside in Estonia. Charlie said, "Our ministry is about breaking the bondage in people's lives." Miki leads prayer retreats and is trained in healing prayer ministries. Charlie serves in refugee camps, ministers among orphans and street children, and works in the arts.
Charlie and Gustavo met at a TMS Global event in 2008. Both were preparing to serve as cross-cultural workers.
Gustavo, who is from Rio de Janiero, Brazil, was in a successful band and had a recording studio before moving to Paris. Gustavo and his wife, Dalila, worked with artists, planted a church, and shared their faith with interested Parisians. The Faleiros returned to Brazil where Gustavo now pastors a church and continues in music ministry.
"Rue de la Convention" touches on the topics of refugees, orphans, faith, and love. Recorded in the Faleiros' Parisian apartment, the songs include the sounds of the city below. Cover art was provided by Dave Bartlett, a TMS Global worker in Ghana.
You can purchase the album at iTunes, Spotify, Tidal, GooglePlay, Amazon, and other music sites.
All proceeds benefit the ministries of the Chastains and the Faleiros.