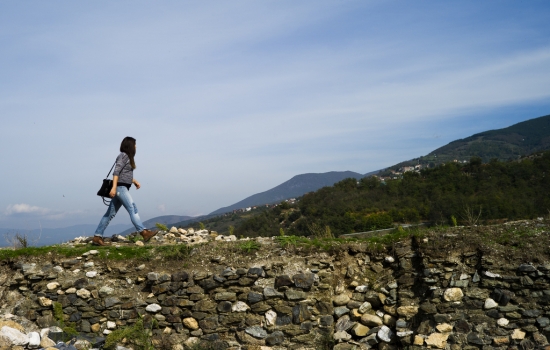 06.21.2018
During the many wars that have taken place in the Balkans, militias have engaged in ethnic cleansing, sometimes even in the name of Christ. While there is openness to learning about Christianity, there is also distrust due to the history of this land.
Edon* and Drita* are a couple from the Balkans who came to faith in Jesus and founded an organization geared towards raising up leaders who will be faithful to God and treat other people with respect, regardless of their ethnicity or religion. This couple desires to share the love of Jesus, who can bring peace and heal the wounds that so many people in the Balkans bear.
In addition to the war and violence many people endured, the Balkans still show the physical remnants of the conflict through devastated buildings that dot the landscape. The unemployment rate is staggeringly high, and it has been difficult for many residents to recover from the wars.
Edon and Drita are committed to helping people in the Balkans deal with the pain of their past and move forward in a healthy way. This couple has been joined by TMS Global cross-cultural workers.

Emma,* who serves in the Balkans, was meeting with Leonora* and Blerta,* two women from the Balkans who had expressed an interest in learning more about Jesus.
Leonora and Blerta were raised in Germany where their father worked, and their family moved back to the Balkans after the war in their home country ended. Because of their experience in other countries, the girls' mother was open to learning about other cultures and faiths, although they culturally identified as Muslim. "Our mother always encouraged us to do our best to honor God," said Leonora.
Leonora and Blerta's mother passed away a few years ago, and the young women have felt lost ever since. Emma and a teammate met Leonora and Blerta for coffee and shared with them the message and hope of Jesus. The young women were ready to commit their lives to Jesus and move forward with Him in hope.
"We gave them a Bible and encouraged them to start reading through the Psalms to bring them comfort and encouragement as they continue to work through their pain," said Emma. "The four of us committed to meeting every week to study scripture and seek the Lord together."
Because of your partnership, there are two new disciples of Jesus in the Balkans. Please pray for our cross-cultural workers as they share the love of Jesus around the globe, and pray for Leonora and Blerta as they grow in their new faith. To God be all the praise and glory!
*Pseudonyms used for security purposes.
Next steps:
Pray:
Pray for Leonora and Blerta and their new faith.
Pray for our cross-cultural workers in the Balkans, and the people with whom they work.
Pray for people in the Balkans to be open to experiencing the transformative love of Jesus, who can heal their hearts.
Explore:
If you are interested in talking with a mobilization coach about cross-cultural ministry, contact our team. We can help you find your place.